Authentic Kobold Names Guide and Suggestions 5e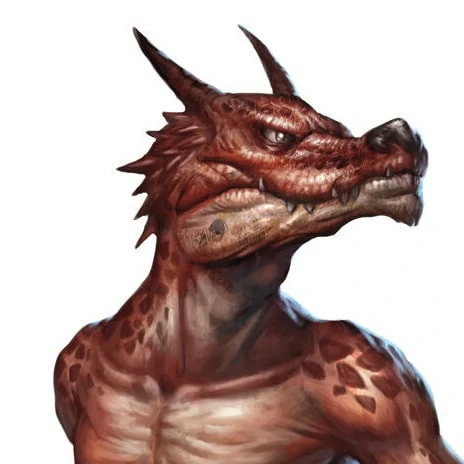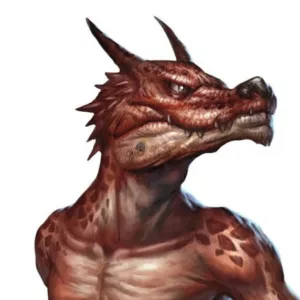 This DnD Kobold name generator will help you find the right name for your character.
If you are using Kobold in your RPG game, then you will need to find the right Kobold name.
You can use the names as written or get ideas to help you brainstorm your options. In the post below, you will find more information that might help you find the perfect name you have been searching for. 
When we depict dragons in fairy tales or games, we often reminisce on a huge lizard-like creature that breathes fire. A devastating creature that anyone does not wish to have in conflict with. But imagine those dragons to be of smaller size, let's say the size of a Human. Yes, that's how our Lizardfolk would look like. What if you make them smaller than a Lizardfolk, let's say the same size as a Goblin? Yep, that's what a Kobold looks like!
Kobolds were defined in Dungeons and Dragons as small, cowardly, foolish, and weak reptilian creatures. Despite their physical limitations, Kobolds have a strong social structure that emphasizes their dedication to work for the tribe. They are expert diggers, loves to scavenge, and are experienced magic users. In this guide, we'll get to know more about the Kobold race and we'll introduce you to our Best D&D 5e Male and Female Kobold Name suggestions. Not only that, we'll give you a list of some Class-Specific Kobold Names and a bonus Funny Kobold Names. You'll also find a ranking of our Top Kobold Names Suggestions at the end of this guide.
If you're as excited as us, why not detour to our D&D 5e Kobold Name Generator. We have a collection of ready-made Kobold names that you can use for your Kobold character. The names are awesome, unique, and free!
Timid Earth Masters
Kobolds are well accustomed to the earth. They know what sections of the ground are strong or soft. They cautiously excavate areas without disturbing the ground's surface. They can pinpoint areas where rich minerals can be found or locate pathways for a water source. Their familiarity with the earth and tunneling experience arose from their long years of earth-dwelling, making their homes underground.
Kobold's small size allows them to create small-diameter tunnels that only they can pass through. They creatively link different tunnels beneath the earth without corroding or affecting the surface. They can create trap mechanisms that trigger on creatures heavier than a Kobold and create walls that prevent them from falling off an edge.
Kobold's abilities and mastery of the earth earned them a fair reputation among the surface dwellers. Some Kobolds are hired by human communities to dig sewer tunnels. They are paid with sufficient food and tools that they wouldn't easily have access to on their own. Kobolds would tend to stay longer in these communities if they are treated fairly and well. They will work industriously to finish the projects they signed to and may do much more than what is expected of them. Kobolds that are accepted in cities and live peacefully with humans are called "city-kobolds". In other areas, however, Kobolds were considered pests and are driven away from their burrows. Some are enslaved and forced to work in enlarging ground areas or for laying traps for defensive purposes.
Not all cities know that Kobolds are living beneath them though. This is because Kobold prefers to stay out of anyone's sight and remain undetected.
There are more details about the Kobolds especially about their scavenging trait, affinity to magic, and their belief that they were created from dragon blood and will be covered in the preceding sections. Let's check out some of Kobold's racial features and traits below.
Attribute/

Skill Trait

Effect

Ability Score

Increase

Kobolds excel both in Dexterity and Strength; an important trait both for escaping and digging. They have a bonus +2 to Dexterity and a bonus +2 to Strength.

Age

Kobolds age faster compared to other races. They mature at the age of 6 but can live up to 120 years. Kobolds who reach the peak age of 120 years are very rare.

Alignment

Kobolds are selfish by nature, which makes them aligned with evil. However, they rely on the strength of their group. This makes Kobolds Lawful Evil.

Size

Small-sized. Kobold's height range between 2 to 3 feet tall and only weigh around 25 to 35 pounds.

Speed

Kobold's base walking speed is 30 feet.

Darkvision

Kobolds are well accustomed to darkness for they spend most of their lives underground. They can see through dim light within 60 feet like bright light and see in total darkness like dim light.

Kobolds cannot discern color in total darkened areas and perceived it as grayish

Grovel, Cower, and Beg

Kobolds are… weak when alone. As an action per turn, Kobolds can cower to distract nearby enemies. Until the end of your next turn, any of your allies gain an advantage on attack rolls against enemies within 10 feet that can see the Kobold.

This trait can only be used again after finishing a short or long rest.

Pack Tactics

Kobolds are strong together! Kobolds have an advantage on attack rolls against a creature if at least one of its allies is within 5 feet of the creature. The ally should not be incapacitated for this trait to work.

Sunlight Sensitivity

Kobolds are uncomfortable with sunlight. They have a disadvantage on attack rolls and on Wisdom (Perception) checks that rely on sight when you, the creature you want to attack, or whatever you try to perceive is exposed in direct sunlight.

Languages

Kobolds can speak, read, and write in the Common and Draconic tongue.
Explore further! Visit our D&D Kobold Name Generator for some quick 5e Kobold name ideas. You may select from a variety of ready-made Kobold names and use them for your D&D character! It's free!
More About the Kobolds
There are a few left-out details that were not tackled from the introduction. These details will also help us in creating names for the Kobolds. First, Kobolds are adept scavengers. They know if discarded items can still be put to use no matter their condition. They will scavenge for items that are completely lost or are not expected to be found so that they can freely take them without attracting attention. We also mentioned earlier that Kobolds are sometimes considered pests. This is because they also tend to grab the property of other creatures if they want items in good condition. They may sneak into a house to loot for knives, shovels, nails, and other useful materials, including cured meat and dried fishes. When discovered, Kobolds will tend to scatter and run away instead of fighting. Second, Kobolds believe they are born from the blood of dragons. This is somehow supported by their reptilian features. Despite them being weaker compared to other races, they believe that there is greatness within them and they are proud to be the blood-kin of dragons. When Kobolds are captured by a dragon, they fervently obey and serve them in astonishment. They see them as demigods or mighty beings worthy to be respected. Lastly, Kobolds have a strong affinity with magic. They do not avoid or hate arcane magic and see them as part of their relationship with the dragons. Young Kobold sorcerers are trained by their elders. Although most Kobolds cannot use tomes, spellbooks, or wands, their elders are knowledgeable enough to use one.
Best DnD Male and Female Kobold Names
Kobold names are based on the Draconic tongue and they are related to the characteristics of the name bearer. This includes scale color, body parts, or common behavior. Kobold names do not have male or female distinctions, but we'll try to suggest few names that can either be masculine or feminine. Check out these names below.
Name

Pronunciation

Gender

Description

Molijir

/mo-li-jir/

Male or Female

Translates to 'Bronze Skin' in the Common tongue. You belong to a group of Bronze and Copper-colored Kobold tribes when using this name.

The Bronze-Copper tribe is known to price on rare metals and tend to smith them to tools they need for their burrows.

Cathmun

/kat-mun/

Male or Female

Meaning 'Pale Scale' in the Common language. You are considered a rare breed among your Brownred Kobold siblings. Your pale color made you a candidate to be a Kobold sorcerer.

Cathmun trained in the peaks of Graypeak Mountain together with the Brownred Kobold elders.

Darrix

/dar-riks/

Male

When using this Kobold name, you are a great Kobold leader that leads a band of Kobolds in looting shiny items on human settlements.

Darrix the Gold is a wise and clever Kobold. No Kobold was ever captured during their looting operations.

Ornposs

/orn-pos/

Female

Meaning 'Silver Rain'. You hatched from a silver-colored egg on a rainy day, thus where your name was based. You are a female Kobold that longs for adventures and curious about the life of surface dwellers (humanoids).

Ornposs is one of the few accepted Kobolds in the city of Everlund. People like her outgoing personality and humorous nature.

Nurhpet

/nur-pet/

Male or Female

Meaning 'the Ugly Kobold'. It was the Lizardfolks who named you 'Nurhpet'. They call you an ugly Kobold because you kept on secretly looting their bone mold supplies from their camps and they always fail in catching you.

Little did the Lizardfolk know that you made a burrow exactly beneath their stash and all the treasures they keep directly fall in your lair.

Achi

/a-ki/

Male or Female

Your Kobold name translates literally to 'Treasure'. Unlike most Kobolds who grew up with the tribe, you hatched in a Wizard's quarters.

Gaskon the Wizard came across a small Kobold egg isolated from an unseen Kobold nest. He took the egg and patiently waited for a Kobold to hatch. He named the hatchling 'Achi' a treasure.

Kosjthar

/kos-thar/

Male or Female

Meaning 'Small Devil'. Unlike most Kobolds, you are an aggressive and impulsive Kobold who violently attacks those who accidentally come across your lair.

Despite people calling you the Small Devil, soldiers do not seem to get frightened when you lunge on them and try to scratch their plate armor. They either find you cute or annoying.

Iskxen

/is-ken/

Female

Meaning 'Starfire'. When using this female Kobold name, you belong to the Bloodfang Tribe; a tribe that is well versed with arcane magic. Like your tribespeople, you practice cannibalism believing that it is imprudent to waste good meat.
More D&D Kobold names from our Kobold Name Generator. This site contains a variety of ready-made Kobold names that you can use for your characters in-game. The names are new, unique, and free!
Kobold's Hatred
Kobolds detest the Gnome above any other races. The Gnome god Garl Glittergold trapped Kurtulmak in an inescapable maze, isolating him to the mortal realm and his favored Kobold creatures. Gnomes and Kobolds became bitter enemies from then on. Although Kobolds do not seek confrontation against Gnomes, they may tend to be aggressive when they see one. Kobolds fighting a Gnome will not run away because their hate overcomes their sense of self-preservation. Check out some Kobold names that we based on their hatred of Gnomes.
Name

Pronunciation

Gender

Description

Girix

/gi-riks/

Male

Meaning 'Golden Claws'. When using this male Kobold name, you are a skilled Kobold trained to exterminate any Gnome wandering your territories.

Girix takes his job seriously. He collects the ears and fangs of Gnomes he slaughters.

Terunt'Dar

/te-runt-dar/

Male or Female

Meaning 'Gnome Hater'. When using this Kobold name, you are an orphaned character whose parents were killed by invading Gnomes. Very few newly-hatched Kobolds survived the attack with you as one of them.

Ternt'Dar bore this name in hopes of avenging his parents and siblings against the Gnomes.

Fintir

/fin-tir/

Male or Female

Meaning 'Slayer'. You belong to the patrolling Kobold regiment when using this name. You and your squad are good at raiding supplies and trade routes of isolated Gnome settlements.

Fintir the Slayer of Gnomes.
Class-Specific Names for Kobolds
Players who like to role play as Kobolds may select one of the twelve available classes from the Player's Handbook. In this section, we'll create suggested names for one specific class that players commonly use for the Kobold: The Ranger class.
The Kobold Ranger
Ranger class is cored in the Dexterity ability score and can choose between Wisdom or Strength. Kobold's ability traits also center on Dexterity and Strength, making the Ranger class a suitable choice for them. Players may also discover different ability traits of the Ranger class that benefits a Kobold character. This includes the Spellcasting trait, the Fighting Style, and the Vanish trait. In the meantime, let's see a few suggested Kobold Ranger names below.
| | | | |
| --- | --- | --- | --- |
| Name | Pronunciation | Gender | Description |
| Ulsaur | /ul-sor/ | Male | Meaning 'Blue-eyed'. You are a blue-eyed Kobold Ranger. You have exceptional accuracy with throwing daggers and likes to protect your mound against foes. |
| Xelgri | /sel-gri/ | Female | You are a keen Kobold Ranger and have high attention to detail. You are a versatile lookout and scout. Your tribe is always prepared because of your warnings. |
| Vaex'Mal | /veys-mal/ | Male or Female | You are a skilled Bowkobold (bowman). Using your short bow made of mammoth tusk, you fend off enemies from afar. |
| Edarix | /eda-riks/ | Male or Female | Meaning 'Earth Mender'. You are skilled at tracking humanoids and beasts through your ability to read footsteps and imprints on the ground. |
| Charig | /cha-rig/ | Female | Unlike most Kobolds who are adept at burrowing underground, you became well versed with climbing trees and jumping from one branch to another. You are an exceptional scout when using this female Kobold Ranger name. |
A Guide to Funny Kobold Names
Of course, our Kobold fellows also deserve some funny names. We all want funny names! Especially when we use such names in-game. In creating funny names for the Kobold race, always think about how naïve they can be when trying to steal from people. Remember that they are cowardly, but fierce when cornered or when their lives are at stake. But they can also be aggressive and rabid when they see a gnome. Let's try to add humor to the Kobold race. Check them out below.
Name

Description

Ken

A male version of Karen the Lizardfolk. Ken is a Kobold though and hates wearing facemasks. Implying to everyone that he cannot breathe… while stealing some unpaid can openers.

Arctritis

A very old Kobold who is proficient with arcane magic. Her bones sometimes ache after casting a spell.

Stawas

A Kobold who shoots laser blasters. Surprisingly, he undertook the ancient training of some weird Lizardfolk monks and he is now called a Jeday.

Kaegaroo

Kagro means 'undead' in the Draconic tongue. Kaegaroo is probably an undead Kobold… We aren't sure too.

M'Jong

/em-jong/

A Kobold who likes to gamble. Yes, please laugh.

Petissinni

(Fettucine)

Petisse means 'Kobold'. Did we mention that Kobolds are sometimes cannibalistic? They eat the corpse of their fellow Kobold because it's a 'good meat'. They probably combine it with some pasta, herbs, and spices to make… Petissinni.

Shukquil

/shuk-kil/

A Kobold who likes basketball. Please laugh.

Ux-Ay-Didit-Agen

Her name is 'Britney' in the Common tongue. She has a golden scale and puffy hair. She's a good Kobold bard and her genre is pop.

Micro Smaugling

You're smaller than a Lizardfolk. You are the micro version of Smaug the Dragon.

Blue Ranger

Together with Red Ranger, Pink Ranger, Yellow Ranger, and Black Ranger, they are the Kobold Rangers! Kobolds can be rangers remember? You should get it.
Check out our DnD 5e Kobold Name Generator for some quick Kobold name suggestions. It's free and easy to use!
Top Kobold Names Suggestions
As a conclusion, we bring to you our ranking of our Top 10 Best Kobold Names. We will base this on the earlier suggested names and rank them according to how nice the name is, how 'Kobold' the name sounds, and of course how fitting the lore is when it comes to the name. Let's not forget that we also have the favorites that we wanted to be on the list. Check them below.
Rank

Name

Gender

Description

1

Iskxen

/is-ken/

Female

Earning our Top 1 spot is Iskxen the Starfire. We like the concept of a Kobold belonging to a tribe who openly participates in the cannibalistic tradition. Because, why not? Kobolds do not waste food! The name itself is also pristine.

2

Vaex'Mal

/veys-mal/

Male or Female

The Bowkobold. Well, we invented the word. We do not call a Kobold using a bow as a 'bowman'. Anyway, the name is very Draconic and unique. We also like the idea of a resourceful Kobold who uses mammoth remains to make their bow.

3

Girix

/gi-riks/

Male

Girix the Golden Claws. We formulated this name from the draconic word for 'Gold' and 'Claws'. We like the idea of him being someone trained to exterminate Gnomes. The name is unique and draconic. So, we think it deserves the third spot.

4

Xelgri

/sel-gri/

Female

We consider Xelgri as a female Kobold Ranger. She has high attention to detail, making him a very clever Kobold. Wise Kobolds became strategists in their tribe and we think the name Xelgri will fit exactly for that job.

5

Nurhpet

/nur-pet/

Male or Female

We imagine the Lizardfolks shouting loud "Nurh Petisse!" or "Ugly Kobold" in the Common tongue. We derived the name from this catchphrase and we think we were able to produce a unique Kobold name. We are placing this name on the 5th spot.

6

Darrix

/dar-riks/

Male

On the 6th spot is Darrix the Gold. We also want a Kobold that is remembered for his deeds and leadership. And here we are, the name Darrix is befitting for such a character.

7

Edarix

/eda-riks/

Male or Female

The name came from the word 'Edar' meaning 'Earth'. We consider Kobolds as masters of the earth. They are well versed in whatever the ground has to offer. However, we created this name to create a Kobold that not only masters the earth but uses it to trace people. To study footprints, and determine the direction of enemies. Quite handy and awesome if a Kobold like this exists.

8

Molijir

/mo-li-jir/

Male or Female

The name is somehow Draconic. Although we derive it on written Draconic language available from different sources. We love the concept of a Kobold tribe that is interested in precious metals. Not only that, these Kobold tribe can smith! We find the idea fascinating and unique.

9

Achi

/a-ki/

Male or Female

'Achi' means treasure. We like the background story of a Kobold adopted by a Wizard. Imagine all the possible stories about the Kobold and the Wizard? Moreover, we think this name deserves at least the 9th spot for this list.

10

Charig

/cha-rig/

Female

We also created an idea to name a Kobold that is versed in climbing trees instead of burrowing underground. This Kobold will be an exceptional Ranger!
For other race-specific names for Dungeons and Dragons 5th edition, you may visit our D&D Name Generator. It's fun, easy to use, and free.
External Sources:
1. Volo's Guide to Monsters: Chapter 1: Monster Lore, Kobolds: Little Dragons, pg. 63
2. Volo's Guide to Monsters: Chapter 1: Monster Lore, Able Scavengers, pg. 63
3. Volo's Guide to Monsters: Chapter 1: Monster Lore, Hatred, pg. 65
4. Volo's Guide to Monsters: Chapter 1: Monster Lore, Kobolds Names, pg. 66
5. Player's Handbook: Chapter 3: Classes, pg. 45