Dwarf Name Generator & Name Suggestions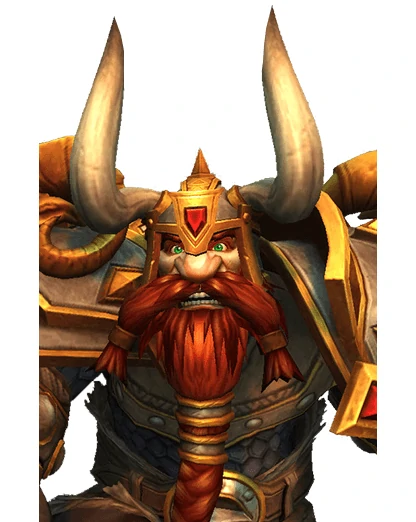 This World of WarCraft Dwarf name generator will help you find the right name for your character.
If you are using Dwarf in your MMORPG game, then you will need to find the right Dwarf names.
You can use the names as written or get ideas to help you brainstorm your options. In the post below, you will find more information that might help you find the perfect name you have been searching for. 
About Dwarves
The Dwarves of Azeroth are known to be courageous and bold. They are an ancient race said to descent from the first earthen beings created by the titans during the youthful era of the world. Due to a strange and unknown illness known as the Curse of Flesh, these earthen beings transformed and turned their earth and rocky hides into soft flesh and skin, creating the first generation of dwarves. The Dwarves made the snowy peaks of Khaz Modan their home and founded the mighty city of Ironforge.
In this guide, we'll discuss a short history of the Dwarf race and discuss a few of their racial traits and appearance. You'll be introduced to a list of our WOW Top Male and Female Dwarf Names, a list of WOW Funny Dwarf Names, and a ranking of our WOW Top Dwarf Names.
You may take a shortcut and try our WOW Dwarf Name Generator for some quick Dwarf name suggestions and references. Our smart and automated name generator has a vast number of generated names that you can use for any of your WOW Dwarf characters. What's better is it is absolutely free!
The Council of Three Hammers
Three dwarven clans became the very foundation of the entire dwarven race in Khaz Modan;
the Bronzebeards
the Wildhammers
the Dark Irons
The dwarven city of Ironforge became the center of their civilization under the united leadership of High King Mondimus Anvilmar. When Mondimus Anvilmar passed away, tensions between the three dwarven clans started, leading to a civil war to gain control over the city of Ironforge.
The War of the Three Hammers is a brutal conflict between the Bronzebeards, Wildhammers, and the Dark Irons. The Bronzebeard clan won the sole ownership of the Ironforge and cut their relations to the other two clans, banishing them and their kin away from the city.
Years after the end of the war, Ironforge remained under the control of the Bronzebeards. A consecutive occurrence of natural disasters, before the Cataclysm, devastated dwarven lands surrounding the Ironforge. These events destroyed many human and dwarven settlements and claimed numerous lives. In search of answers on what is troubling the world, King Magni Bronzebeard performed a ritual in hopes of communing with the earth. In the process, however, Magni was transformed into a diamond and become fused to the earth supporting the pillars of Ironforge itself.
This became an opportunity to claim the throne of Ironforge. Moira, the daughter of Magni who married a Dark Iron dwarf, claimed the throne for herself. She locked the city of Ironforge away from the other rival clans. King Varian Wrynn of Stormwind and his son, Prince Anduin, both from the Alliance, intervened with the Ironforge's chaos and convinced Moira to exalt her plans in usurping the throne. Through the guidance of King Varian, the control of Ironforge was divided equally among the Bronzebeard, Wildhammer, and the Dark Iron clan, uniting them under one pact through the Council of Three Hammers. Since then, the three clans put aside their ancient quarrels and started working together which benefited the Alliance in the succeeding years.
Magni, on the other hand, had his curse reversed by another ritual. The Council first thought that the shift of leadership of the Ironforge from Bronzebeard into the Council may enrage Magni. But to their surprise, Magni did not claim the throne and rather pursued a new purpose. He left the Ironforge to the Council's guidance and he now acts as the Speaker. He guided many great heroes against the Burning Legion.
WOW Dwarf Appearance
Dwarves' average height is between 4'6" to 4'8" regardless of which clan they are associated with. They have stout and thick builds and they can carry heavy objects despite their height limitations. Male Dwarves always have beards of varying lengths. Female dwarves can sometimes have beards too, especially those who belong in the Wildhammer clan. Female dwarves who have strong and thick beards are considered to be beautiful and unique for members of the Wildhammer clan.
WOW Dwarf Traits and Classes
There are ten (10) available classes for the Dwarf race as summarized in the table below:
Class

In-Game Role

Class

In-Game Role

Warrior

Tank or Melee Plate DPS

Paladin

Tank, Healer, or Melee Plate DPS

Hunter

Melee or Ranged Mail DPS

Rogue

Melee Leather DPS

Priest

Healer, Melee or Ranged Cloth DPS

Shaman

Healer, Melee or Ranged Mail DPS

Mage

Ranged Cloth DPS

Warlock

Melee or Ranged Cloth DPS

Monk

Tank, Healer, or Melee Leather DPS

Death Knight

Tank or Melee Plate DPS

(Available with the Shadowlands pre-order)
The Dwarf Racial Traits are summarized below:
Skills/Passive

Description

Explorer

[Passive]

Dwarves are masters of the earth and are great in archaeology. They find additional fragments when looting archaeological finds and they can survey faster than normal archaeologists.

Frost Resistance

[Passive]

Dwarves survived and inhabit the cold regions of Khaz Modan. They have high resistance to frost damage.

Reduces Frost damage from any sources by 1%.

Might of the Mountain

[Passive]

Dwarves are heavy hitters despite their small size.

Critical strike bonus damage and healing increased by 2% with this passive.

Stoneform

[Skill]

Dwarves' earthen nature allows them to harness the power of the earth by temporarily transforming themselves into living stones.

Upon activation, removes all poison, disease, curse, magic, and bleed effects and reduces all physical damage taken by 10% for 8 seconds.
Editor's Notes: Based on possible available classes and traits for the Dwarf race, it is likely a nice idea to utilize the survival capability of your character through Stoneform and Frost Resistance, while at the same time dealing damage through Might of the Mountain. A suggested character would be a Dwarf Warrior, Dwarf Death Knight, or Dwarf Paladin if the player wants to center its character in tanking and dealing damage. A Dwarf Monk or Dwarf Rogue benefits well on the Might of the Mountain trait. A Dwarf Shaman and Dwarf Priest are ideal if a player plans to have a tanky healer that can support team fights.
Dwarf name suggestions coming up! Check out our WOW Dwarf Name Generator for some quick Dwarf name suggestions and references.
Dwarf Names
Dwarven names may sometimes indicate their specific clan's name aside from the main family clan. Dwarven names have a rough and strong tone when pronounced. Dwarven names have a distinction for male and female and the names often have one to three syllables. For a generic Ironforge dwarf, their names reflect their sturdy nature. The three great clans of the Ironforge also follow the same naming convention of the traditional Ironforge names.
Top 10 WOW Male Dwarf Names
| | | |
| --- | --- | --- |
| Name | Pronunciation | Description |
| Hurdaar | /hur-dar/ | This Dwarven name describes a mighty dwarven warrior who wields a hammer on his right hand and a noble dagger on his left hand. He is known to have the ability to call on the power of the storm and imbue it with his hammer. |
| Bastor | /bas-tor/ | The name Bastor describes a character who loves to study and unearth secrets of the world through archaeology. He is a member of the Explorer's League, an organization dedicated to researching and proving the origins of the races of Azeroth. |
| Alfamar | /al-fa-mar/ | This male Dwarven name suggests a character filled with determination and will. His leadership empowers and inspires his comrades to face any threats encountered in battles. |
| Tharag | /ta-rag/ | This name suggests a Dwarven character who prefers solitude. Tharag lives in far lands, away from the main cities and towns. Endless wars and chaos made his heart as hard as stone, unable to feel purpose or love. |
| Koldel | /kol-del/ | The name "Koldel" describes a quick-thinking or sharp dwarven character. Koldel is a smart and clever rogue involved in sinister activities such as smuggling, trafficking, and assassination plots. |
| Numdrin | /num-drin/ | Meaning "Night's Eye" in the Common tongue. This Dwarf character belongs to the Gun Regiment of the Alliance. At a young age, he is well-versed with the dwarven boom stick rifle. His accuracy is extraordinary. |
| Karldran | /karl-dran/ | The name "Kaldran" depicts a charming and energetic dwarven character. He is someone who puts humor in everything—even in a battle. His light and humorous attitude uplift the morale and spirit of his brethren in battle. |
| Bovil | /bo-vil/ | This Dwarven name describes an infamous pilot and mechanic. Belonging to the Sky Regiment, Bovil can fly any Gnome-made aerial machines like zeppelins or gyrocopters. |
| Domal | /do-mal/ | Domal is a veteran dwarven captain who earned numerous accomplishments in the Third War against the Horde. This name is perfect for characters with upright and disciplined attitudes. |
| Maurav | /maw-rav/ | This name is recommended for Dwarven characters who center their offensive capabilities via magics. Maurav mastered the fire and storm magic. He is responsible for the formulation and creation of cold-related magics that the Ironforge mages use in battle. |
More male Dwarf name suggestions from our WOW Dwarf Name Generator. Try it now for free.
Top 10 WOW Female Dwarf Names
| | | |
| --- | --- | --- |
| Name | Pronunciation | Description |
| Loryll | /lo-ril/ | This female Dwarven name describes a compassionate and benevolent paladin. Loryll chose the path of the Light and swore an oath to protect the innocent and the weak. |
| Hala | /ha-la/ | This Dwarven name is recommended for a creative and artistic character. Hala is known for designing bizarre structures and fortifications in the Ironforge. She expresses her artistic nature by carving impossible designs on the walls and panelings of her buildings. |
| Demyll | /de-mil/ | This name is derived from the dwarven word "demya" meaning "capable". Demyll is a strong and skillful warrior. Her sheer focus and will make her an exceptional fighter. |
| Sagrel | /sag-rel/ | This female Dwarven name is for characters who are skilled with jewelry and precious metals. "Sagrel" is derived from the dwarven word "sagran" meaning "smelter". Sagrel can easily discern junk from a precious stone or ore. |
| Dokova | /do-ko-va/ | This female Dwarven name describes a brute and hardy dwarven warrior. Your character wields a stone-crafted shield and a heavy mace. Your character can blow the head off an orc with a single swing. |
| Melyin | /mel-yin/ | The name "Melyin" is for dwarven characters with a strong affinity with magic. At a young age, the elders witnessed her capabilities to harness abundant earth energies and wield them to any form she desires. |
| Alvai | /al-vay/ | The Sniper. This name described a female Dwarf with exceptional marksmanship. It is said that Alvai sniped from over a mile one of the Horde's catapults, rendering it unusable. |
| Nogrei | /nog-rey/ | This female Dwarven name describes a resourceful and skillful dwarf shaman. Nogrei lives on the outskirts of Blackrock Mountain, studying the igneous rocks and molten mud to provide understanding on how fel creatures can survive a tremendous amount of heat. |
| Bylkar | /bayl-kar/ | The name "Bylkar" is for a Dwarven Hunter character. Her hunting skills were proven useful during the Third War. She carries a rifle named Kapow, a name she adopted based on how the rifle sounds when fired. |
| Hawen | /ha-wen/ | This female Dwarf name describes a meticulous and curious character. She is a member of the Explorer's League, seeking knowledge about the origins of Ragnaros. She is also an expert chemist, creating useful explosives for their excavations. |
More female Dwarf name suggestions from our Dwarf Name Generator. Try it now for free.
Funny Dwarf Names
World of Warcraft's version of dwarves is kind of serious, yet mighty and great. Unlike other movies or games that describe dwarves as some feeble or naïve creatures who love to drink and spend time in the tavern (Although Dwarves of WOW would probably want to stay in taverns too. Who wouldn't?). In this section, we'll add a bit of humor to the dwarven race because, why not? We love funny names and we are sure most players would love to name their characters funnily. Check out some of our WOW funny Dwarf names below.
| | |
| --- | --- |
| Name | Description |
| Hamlette | A dwarf with a tiny hammer. |
| Beardrock | A dwarf whose beard is so thick he can use it as an alternative armor. |
| Ayuj Ironballs | A huge iron ball… |
| Frodo | A dwarf who's tasked to destroy the One Ring. |
| Studio Gimli | If you know Studio Ghibli and Gimli son of Gloin, you'll find this funny. If not, please skip. |
| Dopey | A no-beard and muted dwarven warrior. |
| Tic Bloodclot | A reddish dwarven warrior. |
| Lil'Anvil | Sounds like a rapper, right? He is a stout dwarf who makes a beat by hitting the anvil with a hammer. Break it down yo! |
| Ayhad Doublebraid | A female dwarf warrior who likes to double braid her beard. Oh, did I mention she's female? |
| Shu McKer | A dwarf who likes to make shoes. That's odd, I thought Santa's workforce are elves? |
Top WOW Dwarf Names Suggestions
We're now at the end line about our Dwarf name suggestions. As a bonus, we're adding a list of a ranking of our Top 10 Best WOW Dwarf Names suggestions. The ranked names came from the earlier suggestions for male and female dwarf names. We ranked each name depending on how dwarfish the name sounds and how relevant is the lore associated with them (with a few biases from us, of course). Check these names below:
Rank

Name

Gender

Description

1

Tharag

/ta-rag/

Male

"Tharag" passes our first qualification as a name that sounds dwarven. In using this name, the character is portrayed as a recluse or loner. This is an odd nature for a dwarf because dwarves are merry and would prefer parties and gatherings. Anyhow, this name deserves the first spot for pronunciation and the unique lore.

2

Maurav

/maw-rav/

Male

Dwarves are not always brutish or hammer-wielding, some of them can also be mages. We came up with a name for a dwarven character proficient with fire and storm magic. Moreover, the name sounds dwarfish and we definitely want to see this name in-game.

3

Loryll

/lo-ril/

Female

Dwarves are also envoys of the good and the righteous. For this spot, we are placing Loryll the Kind; a paladin who swore to protect the innocent. Not only is she a badass character, but the name sounds regal and bold.

4

Numdrin

/num-drin/

Male

The name Numdrin, which means "Night's Eye", is recommended for Dwarven Hunter characters. We described him as someone who carries boomstick rifles in battle. In the World of Warcraft universe, we often see dwarves carry rifles or explosives as their primary weapon. We came up with an idea of a dwarfish sniper with extraordinary marksmanship.

5

Melyin

/mel-yin/

Female

We derived the name "Melyin" after the famous wizard Merlin. This name gives us a gist that the character is a mage or a wizard. We described this character as someone who can harness the energies of the earth and use them at her disposal. We find this lore concept awesome and unique, so we're including this name on the list.

6

Hurdaar

/hur-dar/

Male

The name "Hurdaar" is dwarfish and it gives us a hint that the character is a mighty warrior. We also like the background lore of Hurdaar, for he wields the power of the storm and imbues it on his hammer—like Thor Odinson.

7

Sagrel

/sag-rel/

Female

Sagrel is already an awesome name by itself. What makes it shine more is her background lore. The name Sagrel is derived from the word "sagran" which means "to smelt" or "a smelter". We see her character as someone who can easily spot valuable minerals. We find this lore unique and rich for a dwarven name.

8

Bastor

/bas-tor/

Male

Bastor sounds like an easy-going or fun dwarf who likes to explore and excavate. While we fail to specify if your character is a fighter, we are still placing this name on the list because the name is dwarfish and fits a generic description of a dwarf.

9

Hawen

/ha-wen/

Female

Hawen is like the female version of Bastor. What makes it different is that we center her lore in her curiosity with Ragnaros. Additionally, continuous exposure to fire and rocks made her an expert with explosives and bombs. Wow, that escalated quickly.

10

Koldel

/kol-del/

Male

Lastly, we will not forget to include a wise and quick-thinking character. Koldel is the perfect example of someone who is quick-tinking and shrewd. Not only that, we love the idea of a rogue-like dwarf involved in rogue-like activities.
More race-specific name suggestions aside from the Dwarf race from our WOW Name Generator. We have a vast collection of ready-made names perfect for any characters you wish to use in your next World of Warcraft playthrough.