Dark Iron Dwarf Names Guide & Suggestions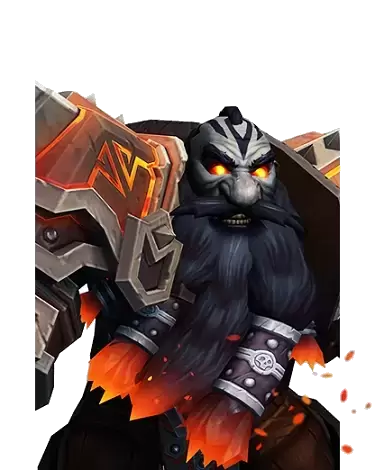 This World of WarCraft Dark Iron Dwarf name generator will help you find the right name for your character.
If you are using Dark Iron Dwarves in your MMORPG game, then you will need to find the right Dark Iron Dwarf name.
You can use the names as written or get ideas to help you brainstorm your options. In the post below, you will find more information that might help you find the perfect name you have been searching for. 
World of Warcraft introduced us to a variety of interesting races and creatures that a player may encounter, or use, in-game. One of the prominent unlockable races is the Dark Iron Dwarves. The Dark Iron Dwarves have an unsettled history of conflict with other dwarven clans. They sought dominance and control of the Ironforge, the capital city of the dwarves. Before the dwarven wars, the Dark Iron Dwarves were ruled by Sorcerer-Thane Thaurissan. They inhabit most of the darkest and deepest crevices under the Ironforge itself.
In this guide, we'll discuss a short history of the Dark Iron Dwarf and tackle a few of their racial traits and appearances. You'll be introduced to our WOW Top Male and Female Dark Iron Dwarf Names. Not only that, we'll add a bonus WOW Funny Dark Iron Dwarf Names and a ranking of our WOW Top Dark Iron Dwarf Names at the end of this guide.
Before we move further on the exciting parts, take a detour and try our WOW Dark Iron Dwarf Name Generator. The names provided here are exceptional, new, and unique. And the best part? The names are absolutely free!
Let's get started!
The War of the Three Hammers
The War of the Three Hammers began with the death of Modimus Anvilmar. The three dwarf clans of Bronzebeard, Wildhammer, and Dark Iron fought for control over the Ironforge. After many years of war, the Bronzebeard claimed the Ironforge, resulting in the exile of the Wildhammer and Dark Iron clan. The Dark Iron, led by Sorcerer-Thane Thaurissan, founded the new capital of Shadowforge in the Redridge Mountains.
The Dark Iron's loss in the war was never forgotten, nor do they intend to leave it in the past. Thaurissan and his wife, Modgud, mustered their Dark Iron army and launched a campaign against the Bronzebeard clan in the Ironforge and the Wildhammer clan in their newly founded city of Grim Batol. Unfortunately, these campaigns ended up in vain when Wildhammer and Bronzebeard clan agreed to an alliance. Modgud was killed in the conflict and it made Thaurissan even more resentful against the Bronzebeard and the Wildhammer.
Vengeance consumed Thaurissan. In finding ways how to enact vengeance against the two enemy clans, he gathered seven of his most powerful sorcerers in an attempt to cast dark sorcery. Their conjuration was a failure, resulting in an accidental summoning of Ragnaros the Firelord from the depths of the earth. Thaurissan and the seven were killed, leaving the Dark Iron clan in chaos while Ragnaros destroys the city of Shadowforge.
Ragnaros enslaved the remaining Dark Iron dwarves and formed the Blackrock Spire, this marks the formal end of the War of the Three Hammers. Generations after the War of the Three Hammers will lead to the rise of Dagran II and the banishment of Ragnaros to the Firelands. The Dark Iron dwarves became members of the Alliance against the Horde.
WOW Dark Iron Appearance
Dark Iron dwarves are iconic for their dark-grey skin and white, black, or orange hair and beards. Their eyes glow like fires and were said to be bestowed to them by Ragnaros himself. Dark Iron dwarves are known to have fiery tempers and have fierce determination compared to other dwarf kin. They are more dexterous and slimmer than the bulky Wildhammer dwarves. They are good with ranged combats and ambushes. One of the few bad traits of the Dark Iron is their self-serving nature, having little to no loyalty to the clan.
WOW Dark Iron Traits and Classes
There are ten (10), available classes, for the Dark Iron Dwarves as summarized in the table below:
Class

In-Game Role

Class

In-Game Role

Death Knight

Tank or Melee Plate DPS

(Available with the Shadowlands pre-order)

Priest

Healer or Ranged Cloth DPS

Hunter

Melee or Ranged Mail DPS

(Hunter Starting Pet: Blazehound)

Rogue

Melee Leather DPS

Mage

Ranged Cloth DPS

Shaman

Healer, Melee, or Ranged Mail DPS

Monk

Tank, Healer, or Melee Leather DPS

Warlock

Ranged Cloth DPS

Paladin

Tank, Healer, or Melee Plate DPS

(Paladin Mount: Summon Darkforge Ram)

Warrior

Tank or Melee Plate DPS
The Dark Iron Dwarf Racial Traits are summarized below:
Skills/Passive

Description

Fireblood

[Skill]

Dark Iron dwarves are tanky and can make themselves immune to certain negative buffs. When activated, removes all poison, disease, curse, magic, and bleed effects and adds an increase to your primary stat by 600 for each negative effect removed.

This trait lasts 8 for seconds and has a 2 minutes cooldown.

Mole Machine

[Skill]

Dark Iron dwarves can summon a Mole Machine that can tunnel through the earth.

Dungeon Delver

[Passive]

Dark Iron dwarves have an increased movement speed when indoors.

They move 4% faster indoors.

Forged in Flames

[Passive]

Dark Iron Dwarf's hardy nature gives them damage reduction from physical attacks.

Reduces damage taken from any Physical attack by 1%.

Mass Production

[Passive]

Dark Iron dwarves are known as artisans and smiths.

Increases Blacksmithing skill by 5 points and Blacksmithing speed by 25%.
Editor's Notes: If we based solely on the racial skills and passives, a Dark Iron dwarf is ideal for a tank role. Having a Dark Iron Dwarf Paladin or a Dark Iron Dwarf Death Knight is not a bad choice.
Name suggestions in the next section. Try our Dark Iron Dwarf Name Generator. We have a collection of ready-made names for your Dark Iron Dwarf character that you can use in any World of Warcraft adventure—for free!
Dark Iron Dwarf Names
In some dwarven cultures, family names are to indicate a specific sub-clan aside from the main family clan. These clan names are the lesser clan who belong to the three of the main dwarven cultures (Bronzebeard, Wildhammer, Dark Iron). Dwarves, in general, have names that reflect the nature of their past.
Dwarven names have a rough and strong tone when pronounced with some words derived from the dwarven language itself. Few examples are Barab (male), Garrim (male), Helge (female), and Krona (female).
Top 10 WOW Male Dark Iron Dwarf Names
| | | |
| --- | --- | --- |
| Name | Pronunciation | Description |
| Throgor | /tro-gor/ | This Dark Iron Dwarf name describes a crafty and hardworking dwarven blacksmith. His skill with smelting iron and rare alloys, transforming them into reliable weapons, is remarkable and superior. |
| Kardim | /kar-dim/ | The Earth Digger. This name describes a Dark Iron Dwarf character skilled with excavations and underground explorations. This dwarf's understanding of earth made him a renowned geologist. |
| Bormir | /bor-mir/ | This name describes a supportive Dark Iron Dwarf Paladin. He excels with support magics and his comrades rely on him for protection and cover during battles. |
| Giltral | /gil-tral/ | He who owns the front lines. This dwarven name describes a Dark Iron warrior with exceptional fighting abilities. Not like other Dark Iron Dwarves, he arrogantly rushes forward and fight head to toe with his enemies. |
| Ilthor | /il-tor/ | The name Ilthor describes a character who wields dark magic. His knowledge with dark arcane arts is forbidden, yet proven to be useful and reliable in this dire time for the Dark Iron clan. |
| Ongrel | /on-grel/ | This Dark Iron Dwarf name depicts a fierce and brutal dwarven warrior. He is merciless on the battlefield and would prefer to die in battle. |
| Kivrel | /kiv-rel/ | This Dark Iron name is portrayed as an expert marksman. An enemy from afar cannot escape his sharp eye and he can easily snipe them down at a distance. Kivrel is also called in arms to fight wyvern riders dominating the skies. |
| Dolki | /dol-ki/ | The bright and innovative dwarf. This name describes a Dark Iron dwarf who created innovative siege mechanisms and automatons that the Dark Iron clan use in defending the citadel. |
| Falgo | /fal-go/ | The Dark Iron clan also includes powerful shamans in their ranks. This name is for a Dark Iron Shaman character who specializes in healing magics and concoctions. He is skillful and created unique ways to heal wounds. |
| Halrag | /hal-rag/ | The tactician. This name represents a Dark Iron Dwarf character who dominates the battlefield through sheer knowledge and tactics. He became famous for the "Hit-and-Run" strategy that picks off enemies by surprise. |
More male Dark Iron Dwarf name suggestions from our Dark Iron Dwarf Name Generator. Try it now for some free, new, and unique WOW Dark Iron names.
Top 10 Female Dark Iron Dwarf Names
| | | |
| --- | --- | --- |
| Name | Pronunciation | Description |
| Arvyr | /ar-vir/ | The Fearless One. This female Dark Iron Dwarf is filled with hatred against the Bronzebeards. Her father was a traveling merchant and attacked by a band of Bronzebeard raiders. This deepened her abhorrence against the Bronzebeards. |
| Malga | /mal-ga/ | The name "Malga" describes a strong and dependable warrior. She uses her flit-lock pistol, an artifact she prized in Gnomeregan. Malga can provide ranged cover for her comrades. |
| Mienes | /mi-ye-nes/ | The Dwarven Warlock. This female Dark Iron Dwarf involved herself in the dark arts of necromancy and conjuration. She can conjure false images and summon familiars and dead beasts to fight for her. |
| Delva | /del-va/ | The Craftswoman. This dwarven name defines a character proficient with forging and smelting. Dwarves from all over the Blackrock Spire fancy her smelted pure ores. |
| Ehwa | /e-wa/ | The Navigator. The name "Ehwa" is for female Dark Iron Dwarf characters who are knowledgeable with navigation and engineering. She is best known for her designs of unique siege zeppelins and the improved barrage mangonels. |
| Agha | /a-ga/ | The guerilla warrior. This female dwarf is an expert with guerilla tactics. There are many rules of engagements when it comes to war, that is to respect each opponent and the bodies of the fallen soldiers. None of these matter to her. |
| Duda | /du-da/ | This female Dark Iron name describes a determined and fierce character. Duda is the captain of the Dark Iron raiding squad. Her efficiency and shrewd tactics led to many advantageous results in favor of the Alliance against the Horde. |
| Hales | /ha-les/ | The name "Hales" describes a cunning arcane user. She has a strong connection with the underground fires of the Blackrock spire, making her skilled with fire magics. |
| Felra | /fel-ra/ | The Skulker. This name describes a stealthy and cunning skulker skilled with assassinations and espionage. Felra conceals herself by wearing the armor and banners of fallen Bronzebeard soldiers while she awaits her next Bronzebeard victim. |
| Mevi | /me-vi/ | The murderer. This female Dark Iron name describes a shady and murderous character. She savors killing any Bronzebeard or Wildhammer clan members. She also likes collecting skulls of trolls, Orcs, and Taurens. The Horde branded her as a lunatic, yet a threat for the Horde itself. |
More female Dark Iron Dwarf name suggestions from our Dark Iron Dwarf Name Generator. Try it now for some free, new, and unique WOW Dark Iron names.
Funny Dark Iron Dwarf Names
We see the Dark Iron dwarves as an unfortunate race who were exiled from their own homes. Their leaders were consumed with vengeance leading to the summoning of Ragnaros. This same vengeance resulted in their enslavement by the Firelord for many years. But let's face it, we still want to use some funny names for your WOW character. Check out some of our suggested funny names for the Dark Iron dwarves.
| | |
| --- | --- |
| Name | Description |
| | Dark Iron dwarves have dark ashen skins, and red eyes… hmmm… I think we've seen these descriptions before. |
| Gnomer | An irritating Dark Iron dwarf. No one wants to become his friend. |
| Tom Curlbeard | Ever seen a curled beard? How about an entire clan with a curled beard? |
| Thrill McDumb | You are a dumb Dark Iron dwarf who likes thrills. They all wonder why you're still alive. |
| My Kidneystone | Well, we associate dwarven surnames from their line of work such as Ironhide, Steelforgers, and Goldsmiths. So, what's the difference if it's a Kidneystone? |
| Karen Golddigger | Beware of this female Dark Iron dwarf. |
| Keyo Fattyhide | A fat but agile Dark Iron dwarf. The Fattyhide clan is known to have the fastest and the fattest group of Dark Iron dwarven soldiers. |
| Hue Jokeman | A Dark Iron dwarf who has wolverine claws and likes to joke. |
| Elmer | We just think that Elmer looks cool (and funny) for a Dark Iron dwarf. Use at your own risk. |
| Midgets | You are a Dark Iron dwarf who belongs to the McNuggets clan. You and your clansmen love chicken nuggets. Unhealthy but worth it. |
Top Dark Iron Dwarf Names Suggestions
We're now on the concluding part of this guide. As a bonus, we're giving you a ranking of our Top 10 Best WOW Dark Iron Dwarf Names. We based the ranking on our earlier name suggestions for male and female Dark Iron dwarves. We score each name depending on how the Dark Iron clan is represented by the name, and of course, the lore imparted by the name itself. Check these names ranking below:
Rank

Name

Gender

Description

1

Giltral

/gil-tral/

Male

The name Giltral sounds dwarfish and has a strong masculine tone in it. He is best described as someone who dominates the front lines, which the character unique and exceptional for a Dark Iron Dwarf.

2

Kivrel

/kiv-rel/

Male

Dark Iron dwarves, in general, do not prefer hand-to-hand combat. Some of them are skilled marksmen who flank opponents at a distance. We like the concept of a dwarven sharpshooter that can kill wyvern riders or any flying creatures.

3

Delva

/del-va/

Female

Lore-wise, Dark Iron dwarves are proficient with smelting raw ores into metals. This is because of their years of experience in dwelling in the underground caverns of the Redridge Mountains. Delva is described as someone skilled with smelting metals, crafting them into finer weapons. Aside from this awesome background story, the name is also easy to remember. We imagine it being used by a random NPC in-game.

4

Felra

/fel-ra/

Female

To start with, this name gives us a nice impression of a strong and cunning female dwarf. We can use this name for any dwarven character, regardless of your character hailing from the Dark Iron clan or not. Moreover, the background lore about a stealthy assassin who does infiltration and deception is amazing.

5

Ilthor

/il-tor/

Male

The name "Ilthor" definitely sounds dwarven. It strongly suggests that the name has noble-like origins. But what makes this name more attractive is its given lore. We love the idea of a character who uses dark magic to inflict damage and harm to his enemies.

6

Mevi

/me-vi/

Female

Of course, we'll add to the list an evil Dark Iron Dwarf character. We like the concept of a murderous dwarf who enjoys killing his rival dwarven clansmen. The name may fit for a dwarf or a human, but we think it is more fitting for a Dark Iron Dwarf.

7

Falgo

/fal-go/

Male

Dark Iron dwarves are good candidates for a support role by focusing on healing magics and team plays. From this concept, we came up with a name that describes a dwarven shaman under the Dark Iron Clan.

8

Hales

/ha-les/

Female

Dark Iron dwarves are also skilled with magic and spells. We are placing Hales on this spot so we can include in the list a character proficient with destructive magics, preferably fire magics. Interestingly, she learned fire magics from years of staying in the Blackrock spire.

9

Kardim

/kar-dim/

Male

Dark Iron dwarves include to their army some expert bombardiers. At the end of the day, the Dark Iron clan are still dwarves, guns and explosives are their best buddies. The name Kardim sounds dwarfish and it reminds us of Kardel—if ever you know him.

10

Halrag

/hal-rag/

Male

This name sounds strong and brutish for a dwarven character. This complements his lore; someone who does "unethical" guerilla tactics not known to common dwarves as far as warfare is concerned.
There are other race-specific names aside from the Dark Iron dwarves. Feel free to visit our WOW Name Generator for more race-specific names.