Highmountain Tauren Names Guide, Generator & Suggestions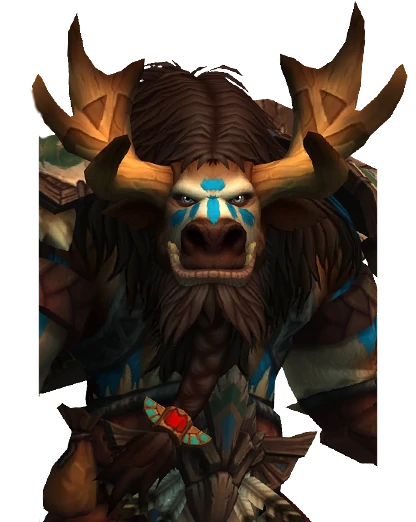 This World of WarCraft Highmountain Tauren  name generator will help you find the right name for your character.
If you are using Highmountain Tauren in your MMORPG game, then you will need to find the right Elf names.
You can use the names as written or get ideas to help you brainstorm your options. In the post below, you will find more information that might help you find the perfect name you have been searching for. 
About race
The Highmountain Tauren of World of Warcraft is a race-related to the common Taurens of Kalimdor. They are found in the mountainous regions of Highmountain on the Broken Isles. Like most races, they were once divided into tribes that compete with one another. The four main tribes of these Taurens are the Highmountain, Rivermane, Skyhorn, and Bloodtotem. For generations, the four tribes fought each other to gain supremacy and control over different regions of the Broken Isles. It was then when Huln of the Highmountain tribe convinced the three rivaling tribes to unite as one in facing a new threat that arrived in their lands: The Burning Legion.
In this guide, we'll discuss a short history of the Highmountain Tauren including their racial  traits and appearance. You'll be introduced to our list of WOW Top Male and Female Highmountain Tauren Names; a list of some WOW Funny Highmountain Tauren names; and a rank list of WOW Top 10 Highmountain Tauren Name Suggestions.
You may take a quick detour and check our WOW Highmountain Tauren Name Generator for some quick name suggestions and references. The names are ready-made and available for free.
The War of the Ancients and the Favor of Cenarius
The northern-central mountains of Broken Isles have been home to four ancients rivaling Tauren tribes. For many generations, these tribes fought for control over the areas and regions. With the appearance of the Burning Legion in Azeroth, Huln of the Highmountain tribe seeks the unification of the four tribes to fight off the invaders. Huln managed to unite all the four tribes under his banner and they fought together with the Kaldorei Resistance, furbolgs, and earthen. This marked the participation of the Taurens in the War of the Ancients.
Amid the chaos, the Night Elf resistance was assisted by other races in fighting off the Legion. By this time, the Legion already have the upper hand and has conquered most of the lands spanning from the Well of Eternity. The Wild Gods participated in this fight, including Cenarius. Many Wild Gods and their minions perished in the battle including Cenarius' father, Malorne the White Stag. In the heat of battle, Huln Highmountain of the Tauren tribes rescued Cenarius' beloved stag Eche'ro. Huln retaliated and created an opening for the resistance by banishing Tichondrius, the commanding officer of the Legion. Years after these events, the resistance was able to push off the Legion and was able to seal the portals of the Well of Eternity. The world of Azeroth has sundered apart as a result of closing these portals. Eighty percent of Kalimdor's landmass was blasted, leaving a handful of scattered continents around the ocean after the sundering. The Sundering of the World was considered the official end of the War of the Ancients.
As for Huln Highmountain, his bravery and loyalty for the resistance earned him and his brethren Tauren forever gratitude from Cenarius. In turn, Cenarius blessed the entire Highmountain Taurens transforming their horns into the Horns of Eche'ro so that they will always have Cenarius' favor. Huln returned to their home after the war and banished one of the remaining black dragons that enslaved the once peaceful drogbar race. He banished black dragon Deathwing from their home region and liberated the entire drogbar race. In honor of his heroic deed, the four tribes, including the liberated drogbar and other acquainted races in their lands, renamed their homeland "Highmountain".
Highmountain Tauren Appearance
The Highmountain Taurens are very similar to the common Kalimdor Taurens. Their height range at around 10 ½ feet tall for males, while females are slightly shorter. Most of their body is masculine and they have a hardy physique and brawny built. Their body is covered with furs, with males growing thick manes along with their head and neck. Male and female Taurens always wear their hair long. Male Taurens prefer to braid their hair and tie it with a decorative band or ropes. Their fur color can vary from black to blond, with few having white or spots.  What makes the Highmountain Tauren different from the other Tauren variants is their prominent moose-like Horns of Eche'ro. Both male and female Highmountain Taurens possess this horn, with females having smaller horn sizes than males.
Highmountain Tauren Traits and Classes
There are six (6) available classes for the Highmountain Tauren race as summarized in the table below:
Class

In-Game Role

Class

In-Game Role

Warrior

Tank or Melee Plate DPS

Monk

Tank, Healer, or Melee Leather DPS

Hunter

Melee or Ranged Mail DPS

Tank, Healer, or Melee Leather DPS

Shaman

Healer, Melee or Ranged Mail DPS

Death Knight

Tank or Melee Plate DPS

(Available with the Shadowlands pre-order)
The Highmountain Tauren Racial Traits are summarized below:
Skills/Passive

Description

Bull Rush

[Skill]

Highmountain Taurens exhibit the strength and speed of a bull.

When activated, the Tauren charges forward for 1 second, knocking enemies down along its path for 1.5 seconds. This skill has a 2 minutes cooldown.

Pride of Ironhorn

[Passive]

Highmountain Taurens are well acquainted with the mountain and have formidable strength.

Mining skill increased by 15 and allows the Tauren to mine faster than most races.

Rugged Tenacity

[Passive]

Highmountain Taurens are hardy and strong.

Reduces any damage taken by [character level] x 3

Waste Not, Want Not

[Passive]

Highmountain Taurens are reluctant in leaving valuable resources and do not leave wastes.

They have a chance to loot additional meat and fish when hunting.
Editor's Notes: Based on the racial passives, it is obvious that a Highmountain Tauren character is designed for a tank role. For players who want a character that fronts in battle, a Highmountain Tauren Warrior or Highmountain Tauren Death Knight is a good choice. These two classes can take advantage of the Bull Rush skill to easily close the gap on any target. The healer role is also a viable choice for this race; therefore, a Highmountain Tauren Shaman, Druid, or Monk is a good pick. The Hunter class is not a bad choice, but the other classes far exceed the benefits compared to picking this class.
Highmountain Tauren's name suggestions in the next section. Try our WOW Highmountain Tauren Name Generator. It contains ready-made names that you can use for your next WOW character. Try it now for free!
Highmountain Tauren Names
Highmountain Tauren and Tauren names are most likely the same in terms of how they sound and how they were created. Tauren's names often have a harsh and low-sounding tone. Most Tauren names have two syllables but few exceed up to at most three syllables. Their names are usually given at birth, while another name is given for them during a ceremony in reaching adulthood. Adult Tauren names describe an important event in their lives or their notable individual qualities.
Top 10 Male Highmountain Tauren Names
| | | |
| --- | --- | --- |
| Name | Pronunciation | Description |
| Bogol | /bo-gol/ | This Highmountain Tauren name refers to the word "Stout" in the Common tongue. Bogol is a strong and sturdy Tauren and is an excellent front-line fighter and defender. |
| Malit | /ma-lit/ | The name "Malit" describes a profoundly wise Highmountain Tauren. The young Taurens call him "The Teacher" because of his openness in sharing knowledge and experience with the young ones. |
| Gadon | /ga-don/ | The name "Gadon" is for a prideful and arrogant character. He is someone who flaunts his martial might. His accumulated scars in numerous battles have their own stories that he openly shares—even if other Taurens aren't interested in hearing it in the first place. |
| Tolvik | /tol-vic/ | Meaning "Gutsy" in the Common tongue. Tolvik is a courageous and determined Highmountain Tauren. |
| Drelmor | /drel-mor/ | This male Tauren name suggests a Highmountain Tauren Shaman proficient with nature's magic. He is well-associated with nature and he swore to protect the earth with all his power and skill. |
| Matai | /ma-tay/ | Matai is a resourceful and thrift Highmountain Tauren. This name is for characters who hate wasting food or resources. Matai tends to reuse certain items or scavenge fallen bodies to create useful tools from their bones. |
| Gurdraggor | /gur-dra-gor/ | This Tauren name is derived from a compound word that means "Stone Miner". Gurdraggor came from a family of proud miners who worked tirelessly in gathering iron ores and precious gems. |
| Fisthard | /fist-hard/ | This male Highmountain Tauren's name represents a character who has a strong fust. He is known to knock down any opponent with a single blow on the chin with his fists. |
| Halthorn | /hal-torn/ | The Valiant Tauren. This Highmountain Tauren name is a selfless Tauren. He is someone willing to preserve any form of life. His love and respect for creatures and plants earned him the title "The Naturalist". He despises wars and chaos. |
| Asam | /a-sam/ | The name "Asam" translates to the word "Spirit" in the Common language. Asam communes with the spirits of nature and his forefathers in creating decisions and predicting the future. |
We have more collections of male Highmountain Tauren names from our Highmountain Tauren Name Generator. Try it now for free!
Top 10 WOW Female Highmountain Tauren Names
| | | |
| --- | --- | --- |
| Name | Pronunciation | Description |
| Panya | /pan-ya/ | This female Highmountain Tauren name describes a faithful and loyal character. Panya is faithful to the earthen gods the Tauren worships, and she is loyal to her tribe and willing to fight for their cause. |
| Galewind | /geyl-wind/ | Galewind is a Highmountain Tauren born on the high mountainous regions of the Highmountain. She was named "Galewind" for her fondness of the wind. Her ancestors believe that the wind spirits guide her as she grows old and mature. |
| Avla | /av-la/ | This female Tauren name translates to the word "Firm". Avla has a strong and solid personality. She fights for what she believes is just. |
| Dalgim | /dal-gim/ | This female Highmountain Tauren name suggests a character that is affiliated with nature's arcane energy. Dalgim belongs to the druid factions of the Highmountain, harnessing nature's energy for useful purposes. |
| Limerock | /laym-rak/ | This Highmountain Tauren name describes a Tauren born from the caves of mount Degoram. She was named after the limestone crevice of the cave where she was born. |
| Hagvan | /hag-van/ | This name is derived from an old and forgotten Tauren word for "Bliss". Hagvan is a peaceful Highmountain Tauren with a compassionate heart. She despises war above anything else but is willing to fight to protect the innocent. |
| Olggreka | /ol-gre-ka/ | This female Highmountain Tauren name describes a strong and reliable warrior. Olggreka wields a great axe and a bronze buckler. She readily fights any form of threat against the inhabitants of the Highmountain. |
| Yuzag | /yu-zag/ | The name "Yuzag" is for a powerful female warrior. She carries an ancient Warhammer named Gralvaang, which is passed down to generations of Highmountain Taurens belonging to her tribe. |
| Falga | /fal-ga/ | Falga is derived from the word "Drafalga" which means "warden". Falga guards the inner sanctum of Highmountain; a place where a shrine was erected to commemorate the fellowship of the Highmountain Taurens and Cenarius. |
| Muzeki | /mu-ze-ki/ | This Highmountain Tauren name describes a Tauren belonging to the Spiritwalker clan. Muzeki possesses the skill and knowledge to commune with nature's guardian and wild spirits. |
For more female Highmountain Tauren names, check out our WOW Highmountain Tauren Name Generator. Try it now for free!
Funny Highmountain Tauren Names
The Highmountain Taurens carved their name in the world of Azeroth from their heroic participation in the War of the Ancients. They even earned the blessing of a Wild God and they are forever in favor of him. But we're not stopping there because we still want to create some funny names for this race. Creating a funny name is the exciting part of this guide. Throw away those serious Highmountain Tauren names and check out some of our suggested Funny names for the Highmountain Tauren race below.
| | |
| --- | --- |
| Name | Description |
| Cowbell | Cling clang. You know when this Tauren is coming. |
| Hoofdicure | Your Highmountain Tauren character has pedicured hooves. Hoofdicure, as they call such service. |
| Moolan | A Highmountain Tauren skilled with sword… and ki. |
| Mangustin | A Highmountain Tauren who likes to eat mangosteen. |
| Ms. Taurbin | A funny female Highmountain Tauren who doesn't… talk. |
| Cattlevania | You get it. We know you get it. |
| Holy Cow | A Highmountain Tauren Paladin who protects the weak and exterminates evil. |
| Invisibull | A Highmountain Tauren that can stand so still, it will seem like he is invisible. |
| Moobies | A female Highmountain Tauren. We do not intend to explain why. |
| Reliabull | Your Highmountain Tauren name describes a very reliable character. Very. Reliable. |
Top WOW Highmountain Tauren Names Suggestions
We're now at the concluding part of this guide. As an added bonus, we'll give you a ranking of our Top 10 Best WOW Highmountain Taurens names. We ranked the names based on how relevant they sound and how good are their lore. But there are a few biases on our part because there are names that we want to see in action. Check out the rankings below.
Rank

Name

Gender

Description

1

Halthorn

/hal-torn/

Male

We all know that Taurens are nature worshippers. This name is perfect for characters who greatly respect and preserve life. Not only that the name is Tauren-like, but the name gives us an idea that your Highmountain Tauren has a valiant character.

2

Galewind

/geyl-wind/

Female

The name "Galewind" is astonishing and lovely for a Tauren character. This name gives a nice niche that your Highmountain Tauren is associated with nature—preferably the winds. You are a Tauren believed to be always guided by the wind spirits.

3

Falga

/fal-ga/

Female

Falga is derived from the word "Drafalga" [Unofficial, fan-made only]. The name sounds sacred and very fitting for someone who guards a sanctum of the Highmountain.

4

Drelmor

/drel-mor/

Male

Highmountain Taurens are not only pure strength, some of them are good sorcerers too. For a Tauren depicting such characteristics, Drelmor is a nice choice. The name "Drelmor" sounds Tauren-like with a gist of a little elven sound to it.

5

Gurdraggor

/gur-dra-gor/

Male

Recalling the racial traits of the Highmountain Tauren, they are surprisingly skilled with mining (although we expect this for a dwarf or a gnome, right?). So, we came up with the idea of having a name based on the mining history of the Highmountain Tauren.

6

Muzeki

/mu-ze-ki/

Female

Highmountain Taurens (or any Kalimdor Taurens) are well-associated with nature and spirits. This name describes someone who can commune with nature's guardians— a feat that is commonly seen from Tauren Shamans.

7

Panya

/pan-ya/

Female

For this spot, we are including one of our favorites when it comes to female Highmountain Tauren name: Panya. First off, this name sounds cute and feminine. Second, the lore describes her as someone faithful to the earthen gods. Lastly, we just really like this name.

8

Fisthard

/fist-hard/

Male

Highmountain Taurens are huge, bulky, and brawny. So, creating a name for a Tauren that can knock you out in a single punch is not a bad idea. Not to mention, you may find your Highmountain Tauren character under the Monk class, right? This name is for you.

9

Yuzag

/yu-zag/

Female

We like the background lore of Yuzag and his hammer Gralvaang; an heirloom passed down to generations of Tauren warriors. We see him as someone strong, mighty, and heroic.

10

Gadon

/ga-don/

Male

Last but not the least, we are adding a name for a prideful or arrogant Highmountain Tauren. Gadon sounds Tauren-like while at the same time describes someone arrogant or boastful. If You want an evil Highmountain Tauren Death Knight? This name is for you.
There are other race-specific name suggestions from our WOW Name Generator. We have a huge collection of ready-made names that are suitable for any of your WOW characters. Try it now for free!