Yuan-Ti Pureblood Names Step-by-Step Guide and Suggestions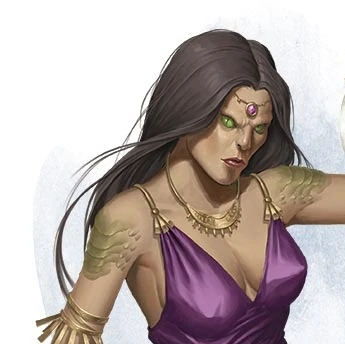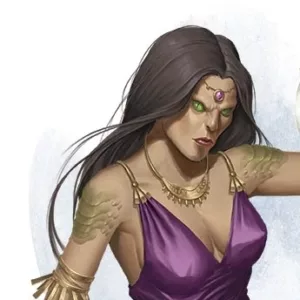 This DnD Yuan-Ti Pureblood name generator will help you find the right name for your character.
If you are using Yuan-Ti Pureblood in your RPG game, then you will need to find the right Yuan-Ti Pureblood names.
You can use the names as written or get ideas to help you brainstorm your options. In the post below, you will find more information that might help you find the perfect name you have been searching for. 
In the world of Dungeons and Dragons, there exists an ancient human civilization that worships serpentine deities. They are called the Yuan-Ti, or the Snake People. The Yuan-Ti was once a prosperous human empire. They were known to build great pyramidic temples and are great with forging metals. They pay homage to their serpent deities, treating them as the embodiment of a perfect and strong being.
The serpent gods heed the prayers of the Yuan-Ti and imparted with them their knowledge and demands so that they can ascend to be an ophidian human. Yuan-Ti believes that they are the most enlightened mortal beings in the Material Plane. They see other races and humans as inferior and disposable compared to them.
In this guide, we'll get to know a brief history of the Yuan-Ti people and discuss a summary description of the different forms of the Yuan-Ti particularly the Purebloods. You'll be guided to a list of our Best Male and Female Yuan-Ti Pureblood Names and some Yuan-Ti Pureblood Funny Names. There's also a ranking of our Top 10 Best Yuan-Ti Pureblood Name suggestion at the end of this guide.
The Rise and Fall of the Yuan-Ti
The first civilized human empire of the Yuan-Ti is among the most advanced and richest in the world. They are proficient in metallurgy, combining their secret techniques in forging with magic. Their military exterminated rival tribes and they were able to develop modernized tactics in fighting on forests and open plains.
In time, their civilization grew as an empire broken into clustered allied city-states. The neighboring cities that they conquered were allowed to retain their leaders and culture for as long as they swore allegiance to the empire. Tributes were collected to these cities and the worship of the serpent gods are imposed as their religion. These successful conquests flooded the main home cities of the empire with excess food, livestock, ores, treasures, and slaves.
The overwhelming wealth that flourishes in the empire allowed the ruling elites to use their time to focus on intellectual pursuits. They turned to philosophy and prayers and started offering gifts of magics or animal sacrifices to the serpent gods. This worship started their tradition in paying homage to the serpent gods in the hopes of transforming themselves into the perfect ophidian form. The serpent gods heed the prayers of these rulers and taught them how to attain the attributes of the snake, but at a dire cost which requires many sacrifices for each human to transform. An entire household of slaves was sacrificed, killing them so their flesh could be eaten as part of a ritual to create the first Yuan-Ti. News spread across the empire like wildfire, that the very first few serpentine humans were created. Leaders from other cities call for more slaves to fuel the process of this ritual and transform their citizens into ophidians. Their serpent gods began to demand more and more sacrifices to the point that the Yuan-Ti expounded their raids on far regions across their border just to meet these needs. The Yuan-Ti end up conquering settlements, villages, and cities of humanoid and non-humanoid races to collect slaves for sacrifices.
The Yuan-Ti's might and prowess allowed them to hold the conquering villages and towns for several hundred years. But just like any rising empire, their downfall is only a thin string ready to be cut loose. A combination of drought, rebellions, and invasions from different enemies (including dragons and nagas) made their empire weaker. Other races were also able to advance their arsenal with the development of iron weapons. The serpent people withdrew inward to their fortified temples and underground, surrendering the rest of their former territory to the winning rebels. The tall and proud structures of the Yuan-Ti were burned down in celebration of their liberation. For thousands of years after the fall of the empire, the Yuan-Ti remained in the shadows, awaiting their chance to rise again in a much stronger form.
Yuan-Ti Structure of Society
Just like the feudalistic system of the humans, Yuan-Ti divides their citizens according to how 'perfect' is their transformation to being serpentine. Their society is clustered into 6 levels, wherein the top level is the rarest kind and closest to being serpentine, while the lowest level is the most abundant and are treated to as commoners.
Yuan-Ti Anathemas
Anathemas are the rarest Yuan-Ti to ever existed. They are larger compared to the other Yuan-TI, with clawed hands, six snakeheads, a human-like torso, and a snake-like lower body. Anathemas are a product of unique rituals undertaken by only a few Yuan-Ti. Their power, intelligence, and wisdom are much greater, making them ideal leaders in any group where they originated. Anathemas are also warlike and expansionist. They lead Yuan-Ti to small-scale wars on humanoids to gather riches and collect slaves until the establishments they are trying to conquer becomes weaker.
Yuan-Ti Abominations
Abominations are the lesser versions of the Anathemas. They still have the human-like torso and arms and their lower bodies are ophidian. In the absence of an Anathema, the Abomination serves as the next leader in most Yuan-Ti cities.
Yuan-Ti Malisons
Malisons are the lesser version of the Abominations. Although not nearing the perfect figure of the Anathemas, they are still considered above most Yuan-Ti. Malisons are the group of Yuan-Ti who seek personal improvements to transform themselves further into Abominations, or Anathemas if given a chance.
Yuan-Ti Pureblood
The most numerous in a Yuan-Ti populace are the Purebloods. Purebloods are human-like and do not have serpentine lower bodies. They only exhibit one to two snake characteristics such as a slitted pupil, or patches of scales on different parts of the skin. Despite Purebloods being far from the perfect ophidian form of the snakes, they are still treated fairly in the Yuan-Ti society. However, their wants and needs are far from being provided compared to the Abominations or Malisons. Purebloods can easily pretend as humans, which makes them valuable assets for the Yuan-Ti to undercover as infiltrators, diplomats, and spies.
Yuan-Ti Broodguards
The Broodguards are artificially created Yuan-Ti from a human. They feed a special elixir to the humans and transforms them into scaly creatures. The effect of the elixir not only transforms their physical appearance but also their capacity to think. They become docile creatures and only follow orders from the Yuan-Ti. Broodguards are less useful than slaves for most tasks because of their lack of thinking, but they are useful guards for Yuan-Ti eggs. Their loyalty makes them more valuable than common slaves in society.
Slaves
It is common for any Yuan-Ti settlements to have a set of slaves under their control. This includes captured intelligent humanoids or trained beasts. Some even have undead or conjured minions at their disposal. Regardless of the purpose or use, they are all treated like slaves because they are not Yuan-Ti.
In this guide, we'll focus our creation of names on the Yuan-Ti Pureblood. The Purebloods in DnD 5e is the only Yuan-Ti acceptable to be used as a playable character. This is mainly because, lore-wise, the Purebloods are the only kind of Yuan-Ti that can venture out and go with other races to participate in adventures. They are seen as humanoids compared to the other Yuan-Ti who are considered monsters.
Below is the summary of Yuan-Ti Pureblood's racial features and traits according to Volo's Guide to Monsters.
Attribute/

Skill Trait

Effect

Ability Score

Increase

A Yuan-Ti Pureblood must always be ready for deception. They have a bonus +2 in Charisma and a bonus +1 to Intelligence.

Age

Pureblood age and mature at the same right as humans. Their lifespan is also the same as common humans.

Alignment

Purebloods are an unfinished transformation of a Yuan-Ti. They are stripped from their emotions during their transformation and they see other people as tools to be used and manipulated. They do not care for law or chaos. They are Neutral Evil.

Size

Medium-sized. Purebloods are most likely the same as humans in size and weight.

Speed

Yuan-Ti Pureblood's base walking speed is 30 feet.

Darkvision

Pureblood's snake eyes allow them to see on dim light and darkness. They see dim light within 60 feet as if it were bright light, and they see total darkness as if it were dim light.

Purebloods cannot discern color in total darkness.

Innate Spellcasting

Purebloods know the poison spray cantrip. They can cast animal friendship an unlimited number of times, but they can only target snakes with it.

Starting at the 3rd level, they can cast suggestions with this trait. Once this was cast, they cannot recast this spell until they finish a long rest.

Charisma is their main spellcasting ability for all these spells.

Magic Resistance

Purebloods have an advantage in saving throws against spells and magical effects.

Poison Immunity

Purebloods are immune to any poison damage and poison condition.

Languages

Purebloods can speak, read, and write in Common, Abyssal, and Draconic tongues.
Name suggestions in the next section. Take a detour and try our DnD 5e Yuan-Ti Pureblood Name Generator. We have a collection of ready-made names for your Pureblood character that you can use in any DnD game—for free!
Best DnD 5e Male and Female Yuan-Ti Pureblood Names
Names taken by a Yuan-Ti have meanings in them and are passed down through generations of younger Yuan-Ti. In time, these names are morphed and their spellings and pronunciations sometimes change. There are Yuan-Ti names that have added syllables to create an exaggerated hissing sound. There are also adopted names that are treated as a variant of a birth name instead of a unique name itself. Therefore, a Yuan-Ti name may either be given from birth, adopted from another Yuan-Ti, or borrowed from the local populace. There is no distinction between male and female names and the names can almost always be used with any gender. But we will try to put some gender-specific names if possible, to this list.
Name

Pronunciation

Gender

Description

Shialaz

/sha-laz/

Male or Female

This Pureblood name is associated with the word 'sharp' in the Common language. You are a quick-witted and mindful Yuan-Ti who specializes in undercover missions.

Shialaz has multiple aliases in different tongues such as Shamyl in Common; Salevien in Elven, and Grumlaz in Dwarven. Your conjuring magic is so effective in concealing your Pureblood looks.

Ezyltar

/ez-il-tar/

Male

Your male Pureblood name describes a faithful Yuan-Ti who believes that every action he takes is advice from the gods.

Ezyltar is a compound word borrowed from the Abyssal word 'ezya' meaning 'screeches' and from the Draconic word 'niltar' meaning 'voices'

Askan

/ash-kan/

Male

Meaning 'strangler' in the Common language. Your Pureblood name describes an experienced assassin who takes on impossible missions that requires finesse, disguises, and espionage.

Askan was sent to many missions to infiltrate weak city governments and gain control of its resources. He was responsible for different assassinations of dukes and prominent figures.

Teleyvi

/te-ley-vi/

Female

This female Pureblood name describes a greedy and entitled Yuan-Ti who treats humanoids as nothing but tools and food.

Teleyvi was named after the ancient Anathema named Seteyvi, which means 'devourer' in the Common tongue.

Koshatil

/kosh-a-til/

Female

This female Pureblood name is characterized by loyalty and faith in the Yuan-Ti empire. Your character strongly believes that with her small actions as an agent, your empire will once rise again.

Koshatil was derived from the borrowed Draconic word 'go zatel' meaning 'to foresee'. You adopted this name because of your strong feeling about the resurfacing of the Yuan-Ti to the mortal world.

Suzukel

/su-zu-kel/

Male or Female

This Pureblood name is given to you from birth by your Pureblood parents. Your parents see you as someone who will honor the tribe and the serpent gods through courageous feats and achievements.

Suzukel indirectly means 'glorious' in the Common language. Suzukel is a skillful marksman, making him a good ranged assassin.

Zashan

/zah-shan/

Male

Your Pureblood name depicts a deadly and savage character. You are merciless to any creatures aside from a Yuan-Ti.

Zashan's barbaric attitude makes him an ideal raider than a spy.

Zuikun

/zuih-kun/

Male

This Pureblood name describes a charismatic yet pretentious Yuan-Ti. You wanted to ascend to be an Abomination, but you can still feel a stain of humanity in you.

Zuikun was born from the union of a male human slave and a female Pureblood. Their forbidden love resulted in their death penalty. You were raised orphaned and did everything to become accepted as a Yuan-TI, and pay for the sins of your parents through successful missions.

Maztil

/maz-til/

Female

Your female Pureblood name depicts a vengeful character. Somehow, there's a part of you who wants to kill your superior Yuan-Ti. You find the concept of being a leader based on the serpentine looks disgusting.

Maztil attempted numerous times to assassinate her superiors. Her cunning traits gave her admiration from other Yuan-Ti leaders and they would love to see her carve her way to the top with her means.

Selesh

/she-lesh/

Female

Your female Pureblood name was bestowed to you on your birth. Your name was derived from an ancient Yuan-Ti heroine named Selas. Selas was a great Pureblood warrior belonging to your family line. She was known to wield the Viper's Tongue, a spear heirloom passed down to your family and inherited by you.

Khazalal

/kaz-a-lal/

Male or Female

When using this Pureblood name, your character is a Yuan-Ti who excels at creating chaos and spreading misinformation. These political tactics create a huge advantage to the fallen empire by weakening the state of affairs of a government.

Khazalal came from the Draconic word 'khazrmel' meaning 'to deceive' or 'to take advantage of someone.

Meynus

/mey-nus/

Male or Female

Your Pureblood name was borrowed from the word 'Manus' in the Common tongue. Manus means 'hand' or 'wrist'. You were granted this name to signify your right-hand status of a Yuan-Ti Abomination.

Meynus is one of the few acceptable Purebloods who were given higher positions in a Yuan-Ti society.

Ssathil

/sash-a-til/

Female

This female Pureblood name describes a Yuan-Ti character who specializes in Shapechanger trait. Ssathil can shift her body from a humanoid body into a large constrictor snake.

Ssathil's ability is greatly recognized by the Abominations and she is treated as a special Pureblood and a candidate for ascension.

Holeshlah

/ho-lesh-lah/

Male

Your male Pureblood name depicts a Pureblood character who wants to wander and explore lands away from the cities. You inherited this wanderlust trait from your Pureblood parents who once traveled to different lands for spying missions.

Holeshlah believes that humans are more than just tools or meat. A deep part of him suggests that Yuan-Ti and humans somehow share a common blood. This belief is seen as a flaw for a Yuan-Ti.

Yltir

/il-tir/

Male or Female

This Pureblood name is an artistic and passionate Pureblood who indulges himself with metallurgy and crafts.

Yltir favors the smithing sounds and the burning coals of his workshop rather than participating in raids and slave collection.
More male and female Yuan-Ti Pureblood name concepts from our Yuan-Ti Pureblood Name Generator. Try it!
A Guide to Funny Yuan-Ti Pureblood Names
Based on the earlier introduction about the Yuan-Ti, we may see them as powerful conquerors and slave drivers. We can also consider them as fanatics of their serpent gods, and they oddly see an ophidian body as a perfect body. Pretty weird though. Who wants a serpent-like body anyway? In this section, we'll add a bit of humor to our Yuan-Ti Pureblood race. We surely want to use some funny names for a Pureblood character on our next DnD playthrough. Check them out below.
Name

Description

Rattler

You are a Pureblood who likes to rattle and shake your butt as if you are imitating someone with that action. You look funny though, doing the butt rattling.

O.P.damn

(Ophidian)

Yes, we are attempting to make a funny name out of the word Ophidian. Sorry, this is the best we have come up with.

Fighton

(Python)

You are a Pureblood who likes to fight. Fighting is your breakfast, lunch, and dinner.

Hastzu

(sneeze)

You often say your Pureblood name when sneezing.

God bless you, and excuse me.

Sssizzling

You are a smoking hot female Pureblood. Ssssizzzling.

Sshhhh

You are a quiet Pureblood who does not want to speak much.

SiMister

You are a sinister Pureblood. Yes, you are SiMister the sinister.

Lil'Boa

A Yuan-Ti Pureblood who likes rap songs. Breaksss itsss downsss yowsss.

Alkaline Blood

You're not a Pureblood, you have Alkaline Blood.

Sir Pent

An honorable and proud Pureblood.
Top Yuan-Ti Pureblood Names Suggestions
As a conclusion for this guide, we're giving you a list of our Top 10 Best Yuan-Ti Pureblood name suggestions. The names here are based on the earlier Male and Female Pureblood names for DnD 5e. We based our ranking on how well associated are the names with the Purebloods, how good are their background lore, and of course some personal biases from us. Check out our ranking below.
Rank

Name

Gender

Description

1

Maztil

/maz-til/

Female

The vengeful character of Maztil is what makes us put her on the number 1 spot. A Pureblood who feels vengeful against a superior is considered a personality flaw. We like this idea because there's a hierarchal system in their society and unfairness is most likely felt especially those below the system. The name also sounds serpentine which gives it an additional point.

2

Ssathil

/sash-a-til/

Female

What's a Yuan-Ti if they can't change their appearance, right? We placed Ssathil on the second spot because of her nice background lore. She has the ability to transform herself into a huge constrictor because, why not?

Added to it is her serpentine name which gives us an impression that the name is of snake origin.

3

Khazalal

/kaz-a-lal/

Male or Female

This Pureblood is a deceptive character who creates chaos and spreads misinformation. Wow, sounds like a modern time political strategist during campaigns. Moreover, the importance of his role is to weaken the state of affairs of government before the Yuan-Ti can successfully infiltrate them. We like this concept and background story and the pronunciation and tone of the name is just a bonus to earn the 3rd spot.

4

Askan

/ash-kan/

Male

Earning our 4th spot is Askan the Strangler. We like the name because it gives off a nice Draconic and serpentine tone. Additionally, we like the background story of a Pureblood who takes impossible missions… like Tom Cruise.

5

Zuikun

/zuih-kun/

Male

For our 5th spot, Zuikun the impure Yuan-Ti. The name gives us a good impression that the name is of serpentine origin. We like the idea of a Pureblood offspring whose parents are human and Yuan-Ti. Their love is forbidden; thus, death was granted for both of them. Zuikun now lives to prove himself useful to the Yuan-Ti… or not.

6

Teleyvi

/te-ley-vi/

Female

Teleyvi was derived from an ancient Anathema named Steyvi. That's nice introductory lore for this character. Moreover, we love the idea of a greedy and gluttonous female Pureblood who sees humanoids as tools and food. We think it deserves at least the 6th spot on this list.

7

Shialaz

/sha-laz/

Male or Female

Shialaz is a clever and mindful Pureblood. And guess what, he has multiple aliases and it makes him more awesome. The name sounds Abyssal and serpentine. It gives us a nice impression of a Pureblood spy character.

8

Selesh

/she-lesh/

Female

On the 8th spot, Selesh the heir to the Viper's Tongue. In terms of pronunciation, the name Selesh already sounds Yuan-Ti. Added to it is the nice background lore about her family lineage of Pureblood who pass on the legacy of Selas to their offspring.

9

Ezyltar

/ez-il-tar/

Male

We like the idea that this name is derived from a combination of an Abyssal word and a Draconic word. This name, although not serpentine, is forgiving given that Yuan-Ti can speak and write in the Abyssal and Draconic language.

10

Koshatil

/kosh-a-til/

Female

Last but not the least, Koshatil the Faithful. We are placing this name on the list because the name sounds Yuan-Ti and gives us an impression that the name is of serpentine origin (because that's what matters when it comes to Yuan-Ti names!). Moreover, we think it still lacks more information and excitement for the background lore. That is why we only place her in the 10th spot.  
There are more race-specific names aside from the Yuan-Ti Pureblood from our D&D Name Generator. The names provided here are new, unique, and free. Try it now!
External Sources:
1. Volo's GUide to Monsters: Chapter 1: Monster Lore, Yuan-ti: Snake People, pg.92
2. Volo's GUide to Monsters: Chapter 1: Monster Lore, Yuan-ti: Snake People, Structured Society, pg.95
3. Volo's GUide to Monsters: Chapter 1: Monster Lore, Yuan-ti: Snake People, Yuan-ti Names, pg.95
4. Volo's GUide to Monsters: Chapter 2: Character Races, Monstrous Adventurers, Yuan-ti Pureblood Traits, pg.120