Draenei Names Generator, Guide & Suggestions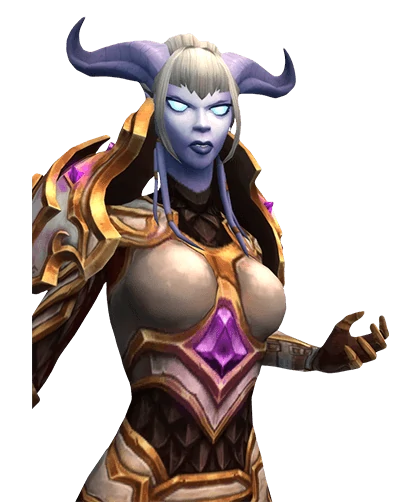 This World of WarCraft Draenei name generator will help you find the right name for your character.
If you are using Draenei in your MMORPG game, then you will need to find the right Draenei names.
You can use the names as written or get ideas to help you brainstorm your options. In the post below, you will find more information that might help you find the perfect name you have been searching for. 
The Draenei from the fantasy universe of World of Warcraft is a small minority group of uncorrupted eredar that fled their homeworld of Argus to evade the total corruption of Sargeras and his demonic Burning Legion. The exodus of the Draenei away from Argus started with the conflict of the three eredar's leaders; Kil'jaeden, Archimonde, and Velen. Velen prophesized the fall of their homeland if they accept the generous offer of knowledge and power from the fallen titan Sargeras—to which Kil'jaeden and Archimonde gladly accepted; leaving Velen with no other choice but to exile himself and few loyal eredar followers away from Argus.
In this guide, we'll tackle a brief history of the Draenei and discuss a few of their racial traits and appearances in-game. Moreover, you'll be introduced to a list of our Top Male and Female Draenei Names, a bonus list of Funny Draenei Names, and a ranking of our Top WoW Draenei Names.
There are tons of things we will discuss regarding the Draenei, in the meantime, take a sneak peek at our Draenei Name Generator. Our smart and automated generator contains a vast number of suggested names for your WOW Draenei character. Try it for free!
The Exodus of Velen and the Rise and Fall of Draenor
The coming of the titan Sargeras marked an ominous fate for the advanced and peaceful world of the eredar in Argus. Sargeras see the gifted race of the eredar as a useful tool for his conquest to eradicate all the creations in the universe. Around 13,000 years ago, Sargeras approached the three leaders of the eredar; Kil'jaeden, Archimonde, and Velen. He offered them knowledge and power in exchange for a meek price of loyalty and compliance. Kil'jaeden and Archimonde gladly accept the offer while Velen became too hesitant.
Velen, in seeking wisdom regarding the offer, touched the Ata'mal crystal in its temple. Upon touching the crystal, he saw visions of the upcoming dreadful days of Argus. He saw a dark future, his people becoming slaves to the dark titan, transforming them into corrupted demons with their light consumed out of their hearts. He saw the founding of the first Burning Legion and witnessed the destruction that it will cause upon all creations. Velen knew that the only way to survive this catastrophe is to flee from Argus as soon as possible, although he finds this nearly impossible to do. The Ata'mal crystal started to rose from its pedestal and a voice came to talk with Velen. The voice introduced itself as one of the Naaru, a sapient energy being. K'ure, as the Naaru calls itself, offered Velen and any willing eredar to safety. It instructed Velen to bring the Ata'mal crystal so that other Naaru will be able to locate Velen and his followers. Velen amassed all his loyal eredar and rode the Naaru ship Genedar. He and his followers barely escaped alive from the relentless pursuits of the armies of Kil'jaeden and Archimonde. But thanks to the Naaru L'ura, Velen and his followers were able to escape as the Naaru sacrificed itself to delay their pursuers.
The eluding eredar started to call themselves "Draenei", or "exiled ones" in the Eredun language. They explored many worlds available in search of a safe place to start over. Velen and the first Draenei settled in a remote and peaceful world and called it Draenor. In this world lived some peaceful and docile shamanic orcs. They were able to befriend these orcs and engage with them in resource trading and knowledge. Over a century, the Draenei were able to rebuild themselves in Draenor. But the pursuit of Kil'jaeden never ceased and they were finally located by one of their pursuers because of the beaming eredar magic flowing out from Draenor. They studied Draenor first and planned a devastating invasion against the Draenei. Through Kil'jaeden's loyal minion Gul'dan, they were able to corrupt the peaceful orc inhabitants of Draenor and turned them against the Draenei. This conflict lasted for nearly eight years with the Draenei numbers greatly thinned.
It was already too late for Velen and the Draenei to realize that the orc horde was afflicted with fel energies devised by Gul'dan. Some Draenei were also affected by these fel energies and transformed them into lesser forms called Krokul, or "Broken" in the Common language. Velen and a few remaining untransformed Draenei survived the destruction of Draenor—now known as Outland— and escaped the chaos through riding a dimensional fortress called Exodar. The Exodar was badly broken and sabotaged and the Draenei crash-landed on the world of Azeroth where they found new allies against the Burning Legion of Sargeras.
WOW Draenei Appearance
Draenei`s are tall humanoid creatures with females having an average height of around 7 feet and 1 inch and males at 7 feet and 5 inches. Their skin tone is of blue hue with shades from white to violet. Interestingly, their blood is also blue. They have a torso that resembles a common humanoid; masculine built; strong neck and back. They have hooves and tails; wherein thinner tails are observable for females and thicker and bulkier tails for males. Some Draenei may also have horns, which is a common and acceptable feature among their kind. Their eyes are beaming with light with shades of blue or purple. This glow fades away when a Draenei dies.
WOW Draenei Traits and Classes
There are eight (8) available classes for the Draenei as summarized in the table below:
Class

In-Game Role

Class

In-Game Role

Warrior

Tank or Melee Plate DPS

Monk

Tank, Healer, or Melee Leather DPS

Priest

Healer or Ranged Cloth DPS

Hunter

Melee or Ranged Mail DPS

Shaman

Healer, Melee, or Ranged Mail DPS

Paladin

Tank, Healer, or Melee Plate DPS

Mage

Ranged Cloth DPS

Death Knight

Tank or Melee Plate DPS

(Available with the Shadowlands pre-order)
The Draenei Racial Traits are summarized below:
Skills/Passive

Description

Gift of Naaru

[Skill]

Draeneis are blessed with the gift of Naaru, allowing them to heal their allies or themselves for an amount equal to a percentage of their total health.

Heals a target for 20% of the Draenei total health for over 5 seconds.

Heroic Presence

[Passive]

Draeneis are born confident and strong. They receive a bonus point for some of their main attributes.

Increases the Strength, Agility, and Intellect of the Draenei by 425 (scales with level).

Shadow Resistance

[Passive]

Draeneis are born affiliated with Light. They have a natural resistance to Shadow Magic.

Reduces Shadow damage taken from any source by 1%.

Gem Cutting

[Passive]

Draeneis are talented craftsmen. They have a bonus point for their jewelcrafting skill.

Increases jewelcrafting skill by 10 points.
Editor's Notes: Basing on the racial skill and passives of the Draenei, it is highly suggested to have a character cored in tanking and healing. A player who wants to center on healing may consider the Draenei Priest or Draenei Shaman. Those who want to go hybrid where they can perform tanking role and a little bit of damage may consider a Draenei Paladin or Draenei Death Knight. A Draenei Monk is also not a bad pick for those who want to have more flexible roles in-game.
Name suggestions coming up. Check out our Draenei Name Generator for some quick Draenei names suggestions and references. The names provided here are unique, new, and free!
Draenei Names
Draenei names are derived from the Eredun tongue. Although not specified, their name may suggest the character's personality or traits. Draenei names may also describe their physical appearance, feats, or achievements. Words in the Eredun language are also associated with demonic words, probably due to the influence of Sargeras on the early eredar people.
There are many phrases used in creating words and names for the Draenei (and Eredar). A few examples of a single-syllable word are Asj, Daz, Gul, Kar, Kil, Laz. There are also words composed of complicated spellings such as those with a five-letter word or up to eight to twelve-letter word. Examples are Adare [five-letter], Amanalar [eight-letter], and Ashjrakamas [eleven-letter]. Eredar names also use an apostrophe (') when making a compound word or an adjective-noun word pair. Examples are Kil'jaeden and ered'nash [burning blade].
We will use the concepts above in creating our own Draenei names in the succeeding sections of this guide.
Top 10 WOW Male Draenei Names
| | | |
| --- | --- | --- |
| Name | Pronunciation | Description |
| Grivaldaar | /gri-val-da-ar/ | This Draenei name suggests a character with strong personality and charisma. He is at home in the front lines and is always ready for battle. His charismatic attitude gives morale to his fellow soldiers despite the hardships that they keep on experiencing. |
| Kal'Azar | /kal-a-zar/ | The name "Kal'Azar" roots its origin from the phrase "from within" in the Common tongue. The name describes a Draenei with strong affinity with Eredun magic. His sorceries are unique and personalized that can easily decimate any fel Orcs in battle—but with certain drawbacks to himself. |
| Melzegeb | /mel-ze-geb/ | Melzegeb describes a loyal and righteous Draenei character. He pledged his life and soul in defense of all the Draenei and swore an oath to never give in to any form of corruptions that will make him turn against his people. |
| Ilgatharu | /il-ga-ta-ru/ | The lawful one. The rule of law of the Draenei are absolute and must never be disobeyed. The name Ilgatharu describes a lawful character. He is a Draenei justiciar who fervently implement Draenei laws. He will never hesitate to impose judgment and punishment for those who betray and violate their ancient laws. |
| Ashjkavar | /ash-ka-var/ | This male Draenei name describes a wise and knowledgeable character. Ashjkavar is an old Draenei Shaman who mastered thousands of spells and arcane techniques. He is formidable in battle despite the age. |
| Valakaar | /va-la-kar/ | Virtue and faith are what greatly describe this male Draenei name. Valakaar is a devout and dependable warrior. He is blessed with the light of the Naaru and he personifies their kind will and tidings. |
| Lok'Rodan | /lok-ro-dan/ | The name "Lok'Rodan" originated from the Orcish language which means "A Voyager". He adopted this name in remembrance of the kind Orcs that welcomed him during the peaceful days of Draenor. |
| Kar'Inis | /kar-i-nis/ | The name Kar'Inis translates to the phrase "from the skies"; a description that the shamanic orcs described to the arrival of the Draenei. One of the Draenei adopted this phrase as his own name to commemorate their true origins as a once infamous race that fell from the sky. |
| Dashaar | /dash-ar/ | The benevolent Draenei. This name is for characters who exhibit benevolence and holiness as a Draenei Paladin. Heroism and righteousness is your core virtue and you fight in defense of the Light and the Naaru. |
| Elzethad | /el-ze-tad/ | The Devoid. The name "Elzethad" translates to the word "Devoid" or "Empty". Elzethad is a Draenei warrior who lost his aspirations and ambitions to have a peaceful life in Draenor. He only lives to fight and defend the Draenei until his spirit and will exhausts. |
For more male Draenei name suggestions, try our WOW Draenei Name Generator for free.
Top 10 WOW Female Draenei Names
| | | |
| --- | --- | --- |
| Name | Pronunciation | Description |
| Ishmavel | /ish-ma-vel/ | This female Draenei name depicts a character who excels with powerful offensive arcane spells. Ishmavel's mystic arts and arcane knowledge make her a destructive enemy by a reliable ally. |
| Ylwarri | /il-wa-ri/ | For Draenei characters cored to support or tank roles, this name is suitable. The name describes a female Draenei with exceptional skill in healing. She mastered the art of self-healing and her lifeforce never degenerates. |
| Il'Navel | /il-na-vel/ | The name "Il'Navel" translates to "Enkindled One" in the Common tongue. Her eyes beam like sunlight and it ignites further when she uses her destructive magic against her foes. Her bright yellow-red eyes branded her as the "Crimson of Draenor". |
| Laverah | /la-ve-ra/ | The rune crafter. This Draenei name describes a skillful rune crafter character. Rune crafting is an ancient craft taught by the elders of eredar. Laverah brought this ancient knowledge in Draenor in hopes that the craft will be able to live on outside Argus. |
| Erashavi | /e-rash-a-vi/ | This Draenei name means "The Huntress" in the Common language. She and her fellow elite Draeneis specializes in counter-attacking and guerilla tactics. With the Draenei population greatly thinned during the fall of Draenor, many Draenei resorted to unethical ways of warfare to survive and preserve the few settlements they protect. |
| Nul'Akata | /nul-a-ka-ta/ | Nul'Akata means "A Wild Rogue" when translated in Common. The name describes someone that specializes in ranged combat. She combines her arcane prowess and bow finesse in attacking invading enemies. Nul'Akata is famous for her Chaos Arrow, an attack that can penetrate even the toughest steel. |
| Amerlaag | /a-mer-lag/ | Female Draeneis are also skilled in wielding heavy and magical weapons. The name "Amerlaag" is for female Draenei warriors who wield occult axes—a rare weapon that is said to siphon any form of fel energies to any creatures. |
| Vilmaskra | /vil-mas-kra/ | Casting mass control spells and damage is the iconic ability of this female Draenei. Vilmaskra is a nimble character that can manipulate the physical dimensions of a creature and transform them into lesser creatures for a brief amount of time. |
| Il'Layvi | /il-lay-vi/ | This name translates to "Stalwart One" in the Common tongue. The name describes a female warrior that has proven herself in countless battles. She wields an arming sword, a runic shield, and a relentless rage. |
| Fel'Sha | /fel-sha/ | The name Fel'Sha directly translates to "Fallen Light" in the Common tongue. She is one of the few Draenei afflicted with fel energies. Even so, she was able to retain a portion of her Draenei powers, though much lesser. She is still proven to be reliable through her arcane prowess and shrewd tactical ideas. |
For more female Draenei name suggestions, try our Draenei Name Generator for free.
Funny Draenei Names
Draenei indeed has a sad history from their forced exaltation from their homeland. But this doesn't stop us from using some funny names for the Draenei. Few examples that are famous on the internet are Blueballs and Spacegoat (wow, that's rude), but we'll try to produce few unique names. Check them out below.
| | |
| --- | --- |
| Name | Description |
| Tentabeard | Tentacle beards are the newest trend for male Draenei. |
| PurpleKid | A Draenei with purple hue. His classmates often bully him. |
| GoaThor | A Draenei who wields a hammer. Is he worthy though? |
| ET | Because Draeneis are… aliens. |
| Space Chtulu | Because Draeneis are… aliens and have tentabeards. |
| Blue Protos | It is said that Draeneis are a distant family of the Protos. Wait, what? |
| White Eyes Blue Draenei | Admit it, this one's a nice Yu-Gi-Oh card. |
| Space Smurfs | Because Draeneis are… blue. |
| Raging Blue | A hot-tempered Draenei who has bull-like horns. |
| Sargeras Hater | Yes, we hate this arrogant titan. |
Top Draenei Names Suggestions
And we are now on the concluding part of this guide. In this section, we'll suggest to you our very own rank of Top 10 Best WoW Draenei Names. We based the ranking on the earlier name suggestions for male and female Draeneis. The names are ranked depending on how aligned are the names about Draenei traits or characteristics. How the name sounds also has an impact, and of course some biases on our part because there are names that we want to use in-game. Check the ranking below.
Rank

Name

Gender

Description

1

Elzethad

/el-ze-tad/

Male

This name is derived from an old Eredun language meaning "devoid" or "empty". We imagine him as a character who lost all hopes of returning to their home and only lives to fight—until he dies. Moreover, the name also sounds Draenei-like and we think this name deserves the top spot.

2

Erashavi

/e-rash-a-vi/

Female

Draenei, in nature, is not a weak or cowardly race. They are just thinned in numbers from their escape in Argus and they were not ready for the sudden corruption of the Orcs from Draenor. With this, we came up with an idea of a Draenei who depend and cling to guerilla tactics to survive. Erashavi also gives us a nice description of a skillful female Draenei.

3

Melzegeb

/mel-ze-geb/

Male

Draeneis are fervent followers of the Light and the Naaru beings. They will most likely be righteous. We see the name Melzegeb as an embodiment of this very nature of the Draenei. Not only that, the name gives us a nice hint that the character is of Draenei origin. We are putting this awesome name in the third spot.

4

Ishmavel

/ish-ma-vel/

Female

Ishmavel is a female sorcerer who has deep knowledge and understanding of arcane and mystic arts. Remember that Draenei and the Eredar are advanced civilizations, therefore, having people with such magical feats is not impossible at all.

5

Dashaar

/dash-ar/

Male

First off, Dashaar sounds Draenei, as if it came from one of the original Warcraft books. Moreover, when we call on the name "Dashaar", it gives us a feeling that we are calling for a superhero, someone we can rely on.

6

Vilmaskra

/vil-mas-kra/

Female

This name gives us a dint that the character is a Draenei mage or a mad shaman. Whichever of these classes you choose, this name is suitable. We also like her powers, manipulating the physical characteristics of a creature – a Hex skill.

7

Valakaar

/va-la-kar/

Male

For players who see their characters as good and faithful to the Alliance, this Draenei name is for you. Your character benefits well with the blessings of the Naaru and you will always follow the path of the virtue and the righteous.

8

Grivaldaar

/gri-val-da-ar/

Male

For characters who represent a strong personality of leadership and charisma, this name is appropriate. Grivaldaar gives us an impression that your character is charismatic. He sounds like an NPC leader of a certain group or gang. We surely want to use this name in-game.

9

Nul'Akata

/nul-a-ka-ta/

Female

When we say a rogue-like character, we are referring to a Draenei who has undergone the Hunter class. This name is for characters who prefer ranged combat (why not)? We also like her background lore; someone who uses a "Chaos Arrow" (although this is only a fan-made idea).

10

Kal'Azar

/kal-a-zar/

Male

Draenei is very skilled with magic. Having a character with a unique (or exotic) arsenal of spells is a must for any Draenei mages. The name is Draenei-like and the background lore is cool.
There are other race-specific names aside from the Draenei race. Feel free to visit our WoW Name Generator for more race-specific names.