Pandaren Names Detailed Guide and Name Suggestions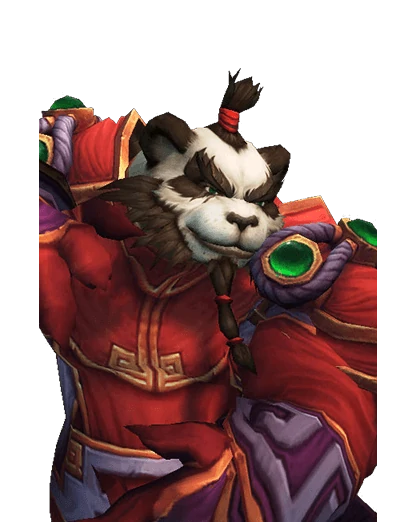 This World of WarCraft Pandaren name generator will help you find the right name for your character.
If you are using Pandaren in your MMORPG game, then you will need to find the right Pandaren names.
You can use the names as written or get ideas to help you brainstorm your options. In the post below, you will find more information that might help you find the perfect name you have been searching for. 
The Pandaren race is the mysterious and enigmatic race from Pandaria and the Wandering Isle. They are a group of elusive humanoid pandas who has a great love for nature and food. The Pandaren race was said to be one of the ancient races in Azeroth. They are said to exist in the world even before the affliction of the Highborne to the Well of Eternity and before the Great Sundering. They were once slaves of a cruel race known as the Mogu until they were able to liberate themselves through a bitter revolution, which allowed them to establish their empire in the process.
In this guide, we'll discuss a brief history of the Pandaren race and their participation in the chaos of Azeroth from the Horde and the Alliance. You'll be guided to a list of WOW Top Male and Female Pandaren Name suggestions. Additionally, we'll a list of some WOW Funny Pandaren Names and a ranking of our Top WOW Pandaren Name Suggestions.
Before we proceed, try our WoW Pandaren Name Generator for some quick name ideas and suggestions. It's easy to use and absolutely free!
The Rebellion and The Mists of Pandaria
Little is known about the origins of the first Pandarens in Azeroth. Dwarven scholars, one such as Brann Bronzebeard, theorized that they descended from an unknown Ancient Guardian. Pandarens are said to exist even before the founding of Kaldorei and Furbolgs.
Pandarens are peace-loving creatures. However, not all the lands are owned and controlled by them. Conflicts from another race, such as the Mogu, greatly affected the harmony and peace of Pandaren lands. The Mogu is a nomadic warlord-like race that fights against each other. Their battles spread across the lands like wildfire, destroying settlements and habitats. During the Age of a Hundred Kings, Lei Shen, the Thunder King, banned together with his followers and rose into power, uniting all the nomadic Mogu tribes under his name. As he conquered the rivaling tribes, he enslaved all the lesser creatures in their territories including the Pandarens. In his rule, Lei Shen imposed that these lesser creatures must serve all the Mogu. He established a single and standardized currency throughout the land. He also fashioned the first written laws via a unified language.
Lei Shen sees the Pandaren race as a threat so he detested them most of all the slaves. When he conquered the tribes of the Pandaren, he publicly executed their leaders and philosophers and burned all their literature and written histories and records. All Pandarens were forbidden to own land and were deprived of the right to learn reading and writing. Any form of tools that can be created as weapons were forbidden to the Pandarens. With this, Pandarens were downed to a race of slaves. Few carve their way out from slavery by doing clownery and shows to entertain their Mogu warlords. Those who aren't funny enough for entertainment ended up having their heads snapped or beheaded publicly for entertainment.
Like all mighty empires, their downfall is their prestige and glory. Instability started to arose among the Mogu classes and the empire started to wear dry. The Pandaren saw this as an opportunity to revolt amidst the chaos of the Mogu empire. Pandarens, having no weapons to defend themselves and fight, started to train themselves with unarmed fist and foot combat. They discovered the use of positive energy (called chi) to empower their mind and body. The revolution was bloody and bitter and left a grim consequence among the Mogu and the Pandarens. The Pandarens won an unbelievable war against the Mogu empire and their successful revolution pave the way to the creation of the first Pandaren Empire that would prosper for thousands of years.
Long before the Night Elves became drawn and addicted to the arcane energies of the Well of Eternity, the Pandaren has close ties with the Night Elves. Some Pandarens witnessed the powers of the Well of Eternity. They see it as an unimaginable force that no one should dare to meddle with. With the Night Elves' obsession with the well's power, the Pandaren decided to cut their ties and protect their borders in Pandaria. As expected, the Well of Eternity was corrupted by the Night Elves and invited the Burning Legion unto Azeroth. Demons started to flood Azeroth as the War of the Ancients started. Emperor Shaohao, the last Emperor Pandaria, discovered a way to protect their homeland from the devastations to come. With his dealings with fate, Pandaria became shrouded by an impenetrable mist for ten thousand years—until the events of the Cataclysm destroyed these mists.
WOW Pandaren Appearance
Pandarens are Humanoid panda bears with dark skins coated with fur from head to toe. The average male height is around 7'6" while females are at around 7 feet. A Pandaren's fur always has two colors; one is always white and the other color varies from black to brown, with some having shades of red and orange. The white color of their furs became more dominant as they grow in age. Their hands are and feet are paw-like and their bodies vary from slim to someone bulky and fat.
WoW Pandaren and Classes
There are eight available classes for the Pandaren race as summarized in the table below:
Class

In-Game Role

Class

In-Game Role

Warrior

Tank or Melee Plate DPS

Hunter

Melee or Ranged Mail DPS

Rogue

Melee Leather DPS

Priest

Healer or Ranged Cloth DPS

Shaman

Healer, Melee or Ranged Mail DPS

Mage

Ranged Cloth DPS

Monk

Tank, Healer, or Melee Leather DPS

Death Knight

Tank or Melee Plate DPS

(Available with the Shadowlands pre-order)
The Pandaren Racial Traits are summarized below:
Skills/Passive

Description

Faction Neutral

[Passive]

Pandarens may choose to side with either the Alliance or the Horde.

Epicurean

[Passive]

Pandarens love superb cuisine and drinks.

Pandaren's love for food gives them additional 100% more stats from Well Feed effects.

Gourmand

[Passive]

Pandarens are excellent cooks.

This skill increases their Cooking skill by 15.

Inner Peace

[Passive]

Pandarens like to relax and doze off during idle times.

They receive twice as much rested experience with this skill.

Quaking Palm

[Skill]

Pandaren's mastery of chi allows them to strike opponents with their bare hands.

Strikes the target with lightning speed which incapacitates them for 4 seconds.
Editor's Notes: Pandaren race is one of the versatile races in World of Warcraft. Their racial skills are well-rounded and balanced regardless of the class chosen by the player. If a player wants to follow a lore-based character, a Pandaren Monk and Pandaren Shaman is an obvious choice. The only combat-based ability of the Pandaren is the Quaking Palm. A player who wishes to add more damage to their Pandaren character may choose a Pandaren Hunter or a Pandaren Rogue. The rest of the classes are at the disposal and preference of the players.
Pandaren Names
By observing the names of the Pandaren, they seem to be derived from oriental (eastern) syllables and terms. Few examples of such names are Chen, Junto, Jesha, Masha, Ping, and Mei. Their names commonly do not exceed two syllables and there are notable names with only one syllable. Pandaren names have a distinction between male and female, while their surnames are likened to the naming conventions of Humans, Dwarves, and Orcs—which are influenced based on their achievements, social status, or self-descriptions. Examples are Earthsong, Greentouch, Honeybrew, Lightgrace, and Sweetbarrow.
Top 10 WoW Male Pandaren Names
| | | |
| --- | --- | --- |
| Name | Pronunciation | Description |
| Bao | /baw/ | A Pandaren name meaning "Treasure" in the Common tongue. Bao's wanderlust made him aspire to travel and explore the world in search of exotic artifacts and items. He is someone who likes collecting things. |
| Hung | /hung/ | This Pandaren name means "Flood" or "Rapids" in the Common tongue. Hung's quick thinking and nimble movements are a striking feature that made him a renowned Pandaren fist-fighter. |
| Toru | /to-ru/ | This Pandaren name translates to the word "Persistent" when translated. At a young age, Toru's parents saw his persevering nature. He is someone who appreciates hard-earned achievements over easy-to-get merits. |
| Uwon | /u-won/ | A male Pandaren name that describes an adventurous yet careful character. Uwon thinks thrice about venturing to unknown lands, although he has an impulsive tendency in trying unknown dishes and ales. |
| Roki | /ro-ki/ | This name means "Beautiful" or "Pleasant" in the Common tongue. Rokie sees beauty in all forms of creations and creature. He prefers preserving and protecting nature than harnessing and destroying it. |
| Chao | /chaw/ | A name which means "Surpassing". Chao is a motivated Pandaren who likes exceeding his limitations. He believes that true progress is attained by surpassing his former self into a new one. |
| Fongli | /fong-li/ | The name "Fongli" describes a drunkard male Pandaren. Fongli loves the taste of ale and booze more than anything else. Despite being always drunk, he can still fight battles using his Drunken-Style Technique. |
| Jingyi | /jing-yi/ | This Pandaren name is a compound word for "Gentle" and "Harmony". Like a usual Pandaren, Jingyi is a gentle and kind character who dislikes conflicts and wars. However, he is still a formidable fighter who specializes in a monk technique called Gentle Fists. |
| Rushu | /ru-shu/ | "Rushu" translates to the phrase "Good Scholar". Not all Pandarens are contented in the bliss that Pandaria offers. Some of them, like Rushu, loves to wander places to learn and study. |
| Taisu | /tay-su/ | This Pandaren name means "Respectful" in the Common tongue. Taisu was granted this second name because of his love and respect for nature and harmony. He respects the balance of all things and the natural flow of life. |
More male Pandaren name suggestions from our WOW Pandaren Name Generator. We have a collection of ready-made Pandaren names that you can use for any of your World of Warcraft characters. Try it now for free!
Top 10 WoW Female Pandaren Names
| | | |
| --- | --- | --- |
| Name | Pronunciation | Description |
| Dandan | /dan-dan/ | This female Pandaren name translates to "Gradually" or "Step by Step". Dandan is a lax Pandaren whose view in life is to take everything slowly but surely. Her character always takes her time in doing everything. |
| Leng | /leng/ | "Leng" means "cold" when translated. Leng has a sharp bluish-cold eye, thus her name. She has full attention to detail when buying something of worth. |
| Kali | /ka-li/ | This Pandaren name is associated with the word "Dark" or "Black". Unlike most Pandarens who are two-colored, Kali only has a single black fur. They call her an eccentric Pandaren. Her uniqueness is seen as a rarity and thus adored by other female Pandarens. |
| Mayu | /ma-yu/ | A Pandaren name meaning "Truthful" in the Common tongue. Honesty and truthfulness are what uphold Mayu's beliefs in life. She believes that in any argument, a truthful closure is necessary. |
| Hisha | /hi-sha/ | This female name is associated with the word "Beautiful". Hisha is an attractive Pandaren in her village. Many aspiring suitors wanted her as their wife but they cannot beat her in a friendly fist-fighting duel. |
| Meiling | /mey-ling/ | "Meiling" means "Beautiful Soul" in the Common language. Meiling is seen as an inspirational and noble Pandaren leader. Her exceptional bravery and compassion with others earned her the highest respect and honor that a Pandaren could ever have. |
| Yayang | /ya-yang/ | This name means "Elegant Light". Yayang has bright orange fur—a very rare color for a Pandaren. She has a happy and cheerful attitude. |
| Yawen | /ya-wen/ | "Yawen" translates to the phrase "Elegant Clouds". She trained in the High Mountains of Pandaria together with the Cloud Serpents. She mastered riding and battling with Cloud Serpent mounts. |
| Meiko | /mey-ko/ | A female Pandaren name related to the phrase "Bright Child". Meiko is a clever and intelligent Pandaren tactician. Her mastery of battle in seas and lands earned her the title "Weida Meiko", meaning "Meiko the Great". |
| Huina | /hu-wi-na/ | This name is associated with the word "Wisdom" in the Common language. Huina has a deep understanding of the natural world and the minds of people and creatures.  |
Try our WOW Pandaren Name Generator for more female Pandaren name suggestions and ideas. Our library of ready-made names is at your disposal with just a push of a button! Try it now for free.
Funny Pandaren Names
We described the Pandarens as peace-loving creatures who do not usually involve themselves in the mayhems of Azeroth. What's more interesting is that the Pandarens love food, drink, and travel. You'll probably see a tourist Pandaren when you're in Azeroth. Anyway, in this section, we'll add humor to the Pandaren names. We know you love to use funny names for your in-game character instead. Check the names below.
Before you proceed, keep in mind that these names are just for fun purposes only (and we know you can think of better funny names than us! *winks*).
| | |
| --- | --- |
| Name | Description |
| Tofu | A chunky and soft Pandaren. We love tofu! |
| Dumpling | We love dumplings! Why not? A character that makes you hungry is a nice character at all. |
| Ramen | Ramen is a cute name! Agree? |
| Chowder | A Pandaren who likes milk soups. Seafood is your favorite mix. |
| Beerbelee | A fat and chunky Pandaren who can use his belly to defend himself. Wow! |
| Brews Li | A Pandaren brewer and a fist-fighter. Be careful with his "1-inch punch"! Yes, we're referring to his homemade ale. |
| Boink | The sound you hear when you try to stab this Pandaren. Blades cannot penetrate his skin. |
| Bamboo | Hey! This is a nice name for a Pandaren. I bet they cannot resist the nice taste of a bamboo shoot. |
| Rambo | Imagine a Pandaren that can pull stunts? Probably awesome to see one. |
| Oreo | Pandarens are usually black and white, right? So, why not? |
Top WoW Pandaren Names Suggestions
As a finale for this guide, we're creating a rank list of our Top WOW Pandaren Name Suggestions. We ranked the earlier suggested names for male and female Pandarens according to how relevant the names and how they sound in a Pandaren's sense.
Rank

Name

Gender

Description

1

Toru

/to-ru/

Male

The name "Toru" sounds simple, yet unique. The meaning behind the Pandaren name makes it interesting, describing someone persistent and persevering.

2

Dandan

/dan-dan/

Female

Dandan sounds like a cute name for a female Pandaren. It means step-by-step or doing things slowly. We see this name for a cautious Pandaren, someone who takes her time in doing things.

3

Roki

/ro-ki/

Male

First off, this name gives us an idea that the Pandaren has a strong personality, and we like it that way. We further describe Roki as someone who perseveres in protecting nature than harnessing it. This makes him more interesting and exceptional.

4

Taisu

Male

Taisu means "Respectful" or someone humble and kind. This name is fitting for characters who want balance and stability in nature. Remember what old Chen Stormstout taught us: To preserve balance and bring harmony.

5

Huina

/hu-wi-na/

Female

Huina is associated with the word "Wisdom". We love the idea of a Pandaren who has a deep understanding of the natural world. She is someone who thinks beyond reality and focuses on what is important in life. Quite awesome if you ask us.

6

Meiko

/mey-ko/

Female

Meiko describes are a bright child or a shrewd one. Her character is someone who has pursued mastery in battle whether from sea or lands. We like this name for the good lore and the nice sound of the name itself.

7

Jingyi

/jing-yi/

Male

We mentioned "Harmony" earlier and it was always one of the core virtues that a Pandaren wishes to preserve. Jingyi represents someone who has this so-called harmony. Your character is someone who despises wars and conflicts but is still an unmatched fighter when threatened.

8

Mayu

/ma-yu/

Female

Honesty and truthfulness are what uphold Mayu in life. We like the idea of someone who wishes to end arguments by disclosing nothing but the truth and explaining it to those she is arguing with. She's full of wisdom indeed!

9

Bao

/baw/

Male

Bao is probably one of the common possible names for a Pandaren. It means "Treasure" when translated. Well, this Pandaren aspires to travel and explore artifacts and items. Who knows? He is probably collecting recipes of ale and food too.

10

Yawen

/ya-wen/

Female

Last but not the least, Yawen the Cloud Serpent rider. Yawen means "Elegant Clouds" when translated. We see her as someone who trained in the High Mountains together with the ancient Cloud Serpents (dragon-looking creatures).
For other race-specific name suggestions from World of Warcraft, you may visit our WOW Fantasy Name Generator. We have a vast collection of ready-made names waiting to be used for your WOW character! Try it now for free!