Orc Names Guide and Name Generator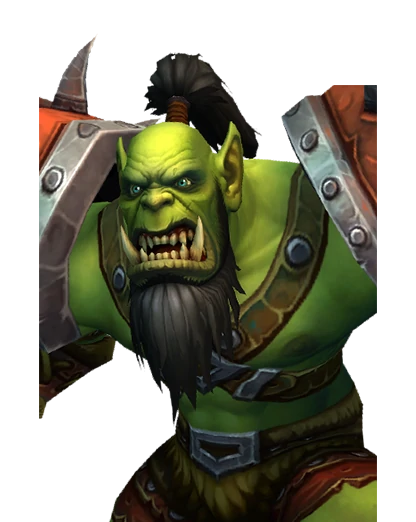 This World of Warcraft Orc name generator will help you find the right name for your character.
If you are using Orcs in your MMORPG game, then you will need to find the right Orc name.
You can use the names as written or get ideas to help you brainstorm your options. In the post below, you will find more information that might help you find the perfect name you have been searching for. 
The Orcs are the powerful race inhabiting the world of Draenor long before the Draenei refugees arrived. They are a race of shamanic and superstitious creatures who worship and nurture the mystics of elemental energies. Orcs' lineage is said to root back to Grond, a massive elemental giant created by the titan Aggramar to defeat Evergrowth, a plant-like Sporemound of ancient Draenor. During the battles of Grond and Evergrowth, pieces of their bodies fell off the ground and gave rise to colossal and genesaur creatures. From these colossal spawn other creatures such as magnaron, which eventually devolved into beings called gronn, and continued to devolve further into ogron. These same ogron creatures devolved again in time to the first set of ogres and from the ogres rise their much lesser cousins— the Orcs. 
In this guide, we'll tackle a few histories of the Orc race and their impact on the stories of World of Warcraft. You'll be introduced to our list of WOW Top Male and Female Orc Name suggestions. Moreover, we'll add a list of WOW Funny Orc Names and a ranking of our Top WOW Orc Name Suggestions at the end of this guide.
Before we discuss the involvement of the Orcs in Warcraft, try our WOW Orc Name Generator for some quick name suggestions and references.
The Corruption of the Orcs and the First War of Azeroth
203 years before the events of the construction of the Dark Portal, Velen and his eradar followers (called Draenei) arrived at the nameless planet of the Orcs. Velen and the Draenei were able to establish peace and cohabited with the Orcs on the nameless planet. Eventually, the Draenei called their newly found homeland "Draenor" and they were able to rebuild themselves for over a century hidden in the sight of Kil'jaeden and the Burning Legion.
This century of peace didn't last long when agents of Kil'jaeden discovered Draenor due to the familiar magic of the eradar flowing out from the planet itself. Planning to torment the eradar deserters, Kil'jaeden carefully studied the planet and devised a plan to destroy the remaining Draeneis on the planet. He contacted one of the head shamans of the Orcs, Ner'zhul, and appeared to him as an orc ancestor. Kil'jaeden convinced Ner'zhul that the Draenei are invaders and will turn against the Orcs when they get stronger. Being fed by such lies, Ner'zhul and his Orc brethren started to raid Draenei settlements in the hopes of being the savior of his race. With the ruthless and mass murder of the Draenei, the spirit elements to whom Orc shamans draw their power refused to aid the Orcs in their pointless war. Due to the superstitious and shamanic nature of the Orcs, they find the refusal of the spirits as an ill omen. With this, the Orcs turned against Ner'zhul. Ner'zhul went to Oshu'gun to commune with the spirits once more. There, it was revealed to him the true nature of Kil'jaeden. Ner'zhul started to refuse to answer any orders from Kil'jaeden himself.
Kil'jaeden eventually found another willing Orc to do his bidding: Gul'dan, the apprentice of Ner'zhul. Unlike Ner'zhul, Gul'dan does not care about the Orcs' beliefs or traditions. He willingly submitted himself to Kil'jaeden in exchange for more power. Gul'dan established the practice of dark sorcery and replaced all shamanic practices with warlock and necromancy. He then formed the Shadow Council and gathered an entire clan of Orcs and exposed them with fel energies. Those who received the fel energies turned their brownish-red bodies into green and made them savage creatures. With an entire fel Orc army at his disposal, he immediately resumed the assault against the Draeneis and they sacked the city of Shattrath to the ground. Kil'jaeden was satisfied with the result of his plans and he abandoned Gul'dan and his Orcs to do as they please.
Gul'dan increased his influence to all the scattered tribes of the Orc. He offered the Orc chieftains the blood of Mannoroth to increase their power and influence. Those who took the blood became consumed with fel energies and their bloodlust became overwhelmingly great. With the destruction of the Draenei race, the Orcs of Gul'dan started to fight among themselves just to satisfy their bloodlust. Gul'dan used this opportunity to once again unite all the Orcs into a Horde, promising them new worlds to conquer. Gul'dan and his warlocks probed the Twisting Nether to search for new worlds to destroy—until Medivh, the guardian of Azeroth, presented him the vibrant lands of Azeroth. Seeing this invitation as an opportunity, Gul'dan and the first Horde constructed the Dark Portal and invaded Azeroth, marking the First War of Orcs and Humans.
WOW Orc Appearance
Orc's physique is very masculine. Female Orcs' height is around 6' to 6'6" tall while male Orcs may reach around 7 feet. Males have long facial hairs and females have eclectic hairstyles and piercings. Orcs' sense of smell is also strong. They can distinguish different odors that can help them trace enemies. Orcs mature quickly and they can grow the same size as a human adult by the age of six years old when they begin to wield weapons and fight. Orcs have large jaws with their tusk-like teeth sprouting out of their mouths. They originally have brownish-red skin tone but those who were exposed to fel energies or by drinking the blood of Mannoroth turned green.
WOW Orc Traits and Classes
There are eight available classes for the Orc race as summarized in the table below:
Class

In-Game Role

Class

In-Game Role

Warrior

Tank or Melee Plate DPS

Hunter

Melee or Ranged Mail DPS

Rogue

Melee Leather DPS

Shaman

Healer, Melee or Ranged Mail DPS

Mage

Ranged Cloth DPS

Warlock

Ranged Cloth DPS

Monk

Tank, Healer, or Melee Leather DPS

Death Knight

Tank or Melee Plate DPS

(Available with the Shadowlands pre-order)
The Orc Racial Traits are summarized below:
Skills/Passive

Description

Blood Fury

[Skill]

Orcs get hyped in every battle. They can enter a rage state that increases their attack power.

Increases melee and ranged attack power for 15 seconds.

Hardiness

[Passive]

Orcs are tested and built in the hardness of the wilderness. They can recover from stun effects more quickly than other races.

Stun effects are reduced by an additional 20%.

Command

[Passive]

Orcs tag along with their pets during combat. Pets under their care receive bonus damage output.

Damage dealt by pets increased by 1%.
Editor's Notes: Based on the racial traits of the Orcs, it is highly recommended for beginners to start with a tank role. An Orc Death Knight, Orc Warrior, or an Orc Monk is a viable choice for such a role. Not only that, the damage output of these classes (despite being tanks) complements well with the Blood Fury skill which allows your character to deal damage while tanking. An Orc Hunter and Orc Rogue is also a good choice if a player wants to focus on physical DPS, while an Orc Warlock and Orc Mage for magical DPS. An Orc Shaman character is usable for players who want to do a supportive role.
Orc Names
Orc names have a sharp and quick tone when pronounced. Their names are probably derived from the Orcish language which most likely describes features and characteristics of the Orc. An example of this is Garona, which means "Cursed" in the Common tongue. The concept of honor is evident in every Orcish society and this includes their naming practices. A tribe may bestow a second name to the Orc when they reach maturity based on their achievements. Apostrophes in Orc names are common to indicate a compound word or distinguish two different words into a single word. There is no notable distinct rule on how long or how short should an Orc name be. Orcs have a distinction between male and female names.
Top 10 Male Orc Names
| | | |
| --- | --- | --- |
| Name | Pronunciation | Description |
| Kosh'el | /kosh-el/ | This male Orc name means "Axe Kin" in the common tongue. Kosh'el's parents associate him with the characteristics of an axe. He must be sharp, broad-minded, and strong. |
| Grandar | /gran-dar/ | The Orc name "Grandar" describes a fierce and honorable Orc grunt. He is someone who savors every battle but respects those who can best him. Grandar despises submission and defeat, however. |
| Ol'thamar | /ol-tha-mar/ | This name is recommended for a mad and vicious male Orc. Due to exposure with fel energies, he became enraged and angered. Ol'thamar has tendencies to kill anyone—friend or foe. |
| Kaz'kil | /kaz-kil/ | This Orc name depicts a powerful warlock involved in dark sorceries and fel magic. Driven by the influences of Gul'dan, you harness the same fel energy in fighting your foes. Your lust for life force seems to be never-ending. |
| Roglokhan | /rog-lo-kan/ | The name "Roglokhan" is for a ferocious raider. He leads a band of raiders in assaulting Human villages and settlements. His superior command over the wolves grants him the title "Wor'Khan" meaning "Wolf's lord" |
| Barigor | /ba-ri-gor/ | Barigor is depicted as a name for an Orc chieftain. He belongs to a clan of pure Orcs who did not incorporate fel energies into their bodies. He believes that the old ways of the Orcs are the true culture in contrast to the ideas imposed by Gul'dan. |
| Oggrom | /og-grom/ | This male Orc name translates to "Giant's Fist" in the Common tongue. Oggrom adopted this name in commemoration of his achievement for single-handedly defeating an ogre with his bare hands. Oggrom's clan has its tradition of finding and challenging ogres to prove their strength among their clansmen. |
| Hobek | /ho-bek/ | The word "Hobek" is associated with a Kodo drummer, a unique Orc unit that boosts the Horde's morale. Hobek belongs to the siege regiment of the Horde. He rides a Kodo beast while pounding a war drum into battle. |
| Kalborg | /kal-borg/ | This male Orc name defines a furious and bold orc soldier. You served as an elite berserker in the ranks of the Horde. Your primary task is to conquer the frontlines and make way for other Orc grunts to push forward and invade. |
| Ul'gurav | /ul-gu-rav/ | For a merciless and battle-hungered male Orc. Ul'gurav drank excessive amounts of Mannoroth's blood in hopes of increasing his strength. He was driven mad instead, earning him the name of "Ul'Gurav" or "Merciless being". |
Why limit yourself? Try our Orc Name Generator for more name suggestions and references. We have a collection of ready-made Orc names suitable to any of your World of Warcraft Orc characters.
Top 10 Female Orc Names
| | | |
| --- | --- | --- |
| Name | Pronunciation | Description |
| Dogora | /do-go-ra/ | This female Orc name means "With Honor" in the Common tongue. Orcs and trolls alike see her as a respectable captain. She won many Mak'gora (Orcish sacred duel) against aspiring male competitors and none of them lived to replace her. |
| Mahoka | /ma-ho-ka/ | Mahoka is a name describing an Orc Shaman. She is someone skilled in healing magic and curing diseases using the old shamanic techniques passed down to her clan. |
| Hagla | /hag-la/ | The name "Hagla" translates to the word "Rough". At a young age, Hagla showed great finesse and strength in wielding weapons. Moreover, her hardy attitude and fierce state made her more attractive among male Orcs. |
| Bralkim | /bral-kim/ | This Orc name means "Graceful" when translated into the Common language. Bralkim was granted this name for her unique and graceful way of wielding sharp edges and knives. |
| Ragda | /rag-da/ | Ragda is described as a shrewd and tactful Orc strategist. She is the brains behind the counter-attacks against the guerilla tactics of Human soldiers making their raid attempts futile. |
| Kir'tala | /kir-ta-la/ | This name translates to the term "Bone Crusher". Kir'tala, despite her short height and stature for a female Orc, wields a heavy earthen mace. No shield or plate armor can withstand a single swing from her weapon. |
| Thraldek | /tral-dek/ | This female Orc name refers to someone wise and just. Although it is rare for an Orc tribe to be led by a she-Orc, Thraldek makes an exemption. No other male Orc from the tribe dares to challenge her in a Mak'gora for a war chief position for they know that they are doomed to fail anyway. |
| Nag'rhal | /nag-ral/ | This name describes a powerful Orc mage. Nag'rhal can harness the power of the earth and use it in battle offensively or defensively. She learned the harnessing of nature spirit from the old shaman elders from her clan. |
| Oshva | /osh-va/ | This Orc name was derived from the word "Oshu" meaning "Spirit". Oshva's parents named her after the unknown grass spirit that dwells in Draenor long before it was corrupted. |
| Undram | /un-dram/ | Also known as the Orc Huntress. Undram is skilled with bows and arrows, which are a rare choice of weapons among Orcs. Despite Orcs seeing ranged weapons as a form of cowardice in battle, they respect and adore her marksmanship and contributions in battles. |
More female Orc names from our WOW Orc Name Generator. We have a huge collection of ready-made Orc names suitable to any of your World of Warcraft Orc characters.
WOW Funny Orc Names
We've described Orcs as a corrupted and tainted race from the world of Draenor. Which makes it easier for us to add funny names for them. We love humorous names and we know that players love using funny names in their WOW characters. Check out some of our suggested funny names below.
Before you proceed, keep in mind that these names are just for fun purposes only (and we know you can think of better funny names than us! *winks*).
| | |
| --- | --- |
| Name | Description |
| Durothy | Probably the sister of Durotan. |
| Orckid | No, it's not a flower breed. It's a young Orc. |
| Joan of Orc | A female Orc who defended the Horde against foreign invaders… or was it? |
| Orcinogen | A cancerous fel Orc. |
| Orcarina | A female Orc whose voice has a good melody. Careful, we heard Link is looking for her. |
| Noah's Orc | An Orc who can swim. It is said that he can carry a bunch of animals in his back, or so they say. |
| Orcresterol | Wow, our Orc puns are getting bigger. This Orc name is fatty and unhealthy. |
| Gamora | Where is Gamora? Who is Gamora? Why is Gamora? |
| Borc | A boring orc. |
| Forc | Orcs are sharp and witty too… like a fork. |
Top WoW Orc Names Suggestions
We're down on the concluding part of this guide. As a finale, we're creating a list of our Top WOW Orc Name Suggestions. We will rank the earlier suggested names for male and female Orcs. Don't worry, we ranked the names based on how relevant are their background descriptions and how Orcish the name sounds (with some personal bias on our part of course). Check the rankings below.
Rank

Name

Gender

Description

1

Roglokhan

/rog-lo-kan/

Male

Orc raiders have developed companionship with the wolves, allowing them to ride them as mounts. We described Roglokhan as a great Orc raider, branding him as "Wor'Khan" or "Wolfs' Lord". We are placing him on the top spot for the nice lore about the raiders and the nice Orcish name.

2

Nag'rhal

/nag-ral/

Female

The name "Nag'rhal" greatly suggests a powerful Orc mage. This name is best used for an Orc Shaman character because she is someone who can harness magic from nature itself.

3

Mahoka

/ma-ho-ka/

Female

The name "Mahoka" suggests or describes a kind-hearted Orc. We see her name as someone compassionate to her brethren. She specializes in healing and cure and she rendered her services freely for the Horde.

4

Kosh'el

/kosh-el/

Male

We pulled inspiration in creating this name from the birthname of Thrall, Go'el. We describe this name as a character associated with the axe. Like the axe, you are sharp in mind, broad in understanding, and strong-willed.

5

Oshva

/osh-va/

Female

Oshva is one of our favorites in our female Orc list. We love her background lore, deriving her name from the Orcish word for "spirit" (Oshu).

6

Thraldek

/tral-dek/

Female

From the stories of World of Warcraft, it is rare to see a female Orc seated as a chieftain. So, we came up with an idea of a name suitable for a female Chieftain. What's so cool about her is she won many Mak'gora challenges against male Orcs.

7

Grandar

/gran-dar/

Male

Not all Orcs are merciless and brute. Few are honorable in battle, like Grandar. Moreover, Grandar sounds Orcish and solid when used in-game. Durotan is our inspiration in creating this name.

8

Ul'gurav

/ul-gu-rav/

Male

For this spot, Ul'gurav the… drunkard. Well, Ul'gurav drank too much blood of Mannoroth. Few Orcs who wish greater power are encouraged by Gul'dan to drink more of this blood. This transforms them into berserk and ruthless fel Orcs.

9

Undram

/un-dram/

Female

Ever seen an Orc wielding bow and arrow? Definitely not! But why not put a name describing an Orc good at ranged combat? Remember, Orcs can enter the Hunter class when you play WOW. For players who wish to have a (serious) name for an Orc Hunter, this name is for you.

10

Kaz'kil

/kaz-kil/

Male

Last but not the least, we are placing Kaz'kil the Warlock on the list. We believe that somehow, Gul'dan trained a few warlocks in using fel energies. Although not clearly stated in the lore of Warcraft, we think the name Kaz'kil is a fitting name for an Orc Warlock whatsoever.
There are other race-specific name suggestions from our WOW Name Generator. We have a collection of ready-made names for any races you desire for World of Warcraft. Try it now for free!