Blood Elf Name Generator & Name Suggestions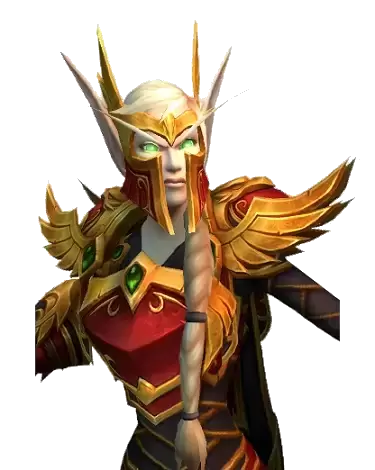 This World of WarCraft Blood Elf name generator will help you find the right name for your character.
If you are using Blood Elf in your MMORPG game, then you will need to find the right Blood Elf names.
You can use the names as written or get ideas to help you brainstorm your options. In the post below, you will find more information that might help you find the perfect name you have been searching for. 
The Sin'dorei or the children of blood are the remnants of the Quel'dorei (High Elves) of Quel'Thalas who survived the Scourge invasion and corruption of the Sunwell. The High Elves of Quel'Thalas were once members of the Alliance of Lordaeron during the First and Second War until they defected from the alliance before the Third War and the rise of the Scourge. Following the destruction of their home city, Silvermoon, and the defilement of the Sunwell, the surviving High Elves rebranded themselves as the Sin'dorei or the Blood Elves in honor of the sacrifices of their kin who bravely fought for Quel'Thalas and in honor of their fallen high king Anasterian Sunstrider.
In this guide, we'll get to know a bit more about the Blood Elves of Quel'Thalas, their appearance, racial traits, and their involvement in the Horde faction. Readers will be guided to a list of our Top WOW Male and Female Blood Elf Names, a list of some Funny WOW Blood Elf Names, and a ranking of our Top 10 Blood Elf Name Suggestions.
There's more stuff to talk about the Blood Elves. In the meantime, try our WOW Blood Elf Name Generator for some quick Blood Elf name ideas and references. It's fast, easy to use, and most importantly free!
The Rising of the Horde in Quel'Thalas
With the destruction of the Sunwell, the surviving Blood Elves suffered from withdrawals and weakening. The Sunwell sate and nourish the Blood Elves within the empire and without it, they became weak and starved from mana. During the Third War, after the fall of Quel'Thalas, Prince Kael'thas became desperate for vengeance against the Scourge and hurriedly joined the Alliance resistance. But the partnership of the Blood Elves with the Human resistance was proven to turn sour and their cooperation in battling the Scourge became bent. During their battles, Kael'thas met Lady Vashj and her army of Naga who aided them against the Scourge. The Humans, however, see such action as an act of treachery and arrested the Blood Elves to the Dungeons of Dalaran. In here, Lady Vashj reappeared again and offered her assistance in freeing his elves from the dungeons. As they escape Dalaran, Lady Vashj convinced Kael'thas to meet his master, Illidan Stormrage, as he may have answers on how to cure the withdrawals of the Blood Elves.
Prince Kael'thas escaped to the wastes of Outland and allied with Illidan in exchange for knowledge about an alternative way of gaining mana. Illidan taught the Blood Elves how to siphon magic from powerful magic sources, including demons and lesser creatures. With this temporary solution for their withdrawal, Kael'Thas sent Grand Magister Rommath and a squad of trained magisters back to Quel'Thalas to teach and spread Illidan's ways of siphoning magic. In Rommath's return, he brings news that Prince Kael'thas found a way to ease the withdrawals and taught the Blood Elves how to cast this magic.
During this time, Quel'Thalas is having great trouble with the withdrawals and they cannot gain equal footing in fighting the Scourge and the increasing menace of the forest Trolls. But with the teaching from Rommath and his magisters, most Blood Elves regained their strength and became invigorated. They were able to fight back and reclaim much of Quel'Thalas. Soon, they were able to restore much of Silvermoon City and rebuilt it almost overnight. The Blood Elves were not content with their victories, they spread further north and east, retaking much of the Eversong Woods and pushing back the Trolls away from the forest. To drive away the Scourge from every corner of Quel'Thalas, they marched south to Ghostlands and defeated most of the Scourge in the area.
With the restoration of their kingdom, the Blood Elves decided to look for allies while they await the return of Prince Kael'thas. The Blood Elves were offered aid from an unexpected group, the free-willed Forsaken undead under the leadership of Sylvanas Windrunner, a former Ranger-General of their kingdom. Together, they work closely to purge the entire Ghostlands of Scourge's presence. With their numerous victories against the Scourge, the Blood Elves and the Forsaken became allies and in the future, became part of the Horde as Sylvanas and her Forsaken decided to join the Horde against the Alliance.
Blood Elf Appearance
Blood Elves' height is around 6'3" for males and 5'9" for females. Male Blood Elves have more masculine and slenderer but athletic bodies compared to female Blood Elves. Both male and female Blood Elves have long and pointy ears and still possess keen sight in darkness which they probably inherited from their Night Elven heritage. Blood Elves can easily identify arcane energies with their sight as well as the flow of magic. Their eyes glow with magical energy ranging from green, gold, blue, or light purple, depending on what kind of magical energies they are exposed to. High Elves came from the exiled group of Highborne Night Elves who settled in Quel'Thalas for 7000 years. They worshipped the Sun and the Light, as opposed to the worship of the moon goddess by the Night Elves. Their skin tone became pale color and they started to be more active during the day than night.
Blood Elf Traits and Classes
There are ten available classes for the Blood Elf race as summarized in the table below:
Class

In-Game Role

Class

In-Game Role

Warrior

Tank or Melee Plate DPS

Paladin

Tank, Healer, or Melee Plate DPS

Hunter

Melee or Ranged Mail DPS

Rogue

Melee Leather DPS

Priest

Healer or Ranged Cloth DPS

Mage

Ranged Cloth DPS

Warlock

Ranged Cloth DPS

Monk

Tank, Healer, or Melee Leather DPS

Demon Hunter

Tank or Melee Leather DPS

Death Knight

Tank or Melee Plate DPS

(Available with the Shadowlands pre-order)
The Blood Elf Traits are summarized below:
Skills/Passive

Description

Arcane Acuity

[Passive]

Blood Elves have a natural talent for precision. They gain a bonus critical strike chance.

Increases critical strike chance by 1%.

Arcane Torrent

[Skill]

Blood Elves can distort magic and purge one beneficial effect from enemies and restore some of their resources in the process.

Upon activation, removes 1 positive effect from all enemies within 8 yards and restore 3% of the Blood Elf's Mana, 15 Energy, 15 Rage, 15 Focus, 1 Holy Power, 1 Chi, or 2 Runic Power (depending on the character class)

Arcane Affinity

[Passive]

Blood Elves are versed in the mystical arts and receive a bonus point in enchanting.

Increases Enchanting skill by 10 points.

Magic Resistance

[Passive]

Blood Elves are naturally resistant to arcane damage.

Reduces Arcane damage received from all sources by 1%.
Game Suggestions: Players can take advantage of the Arcane Acuity passive trait to core their Blood Elf character for a DPS class. Blood Elf Hunter and Blood Elf Rogue is an obvious choice for this build. Blood Elf can also do tanking due to their Magic Resistance. Most players pick the unique Blood Elf Demon Hunter for this build as to not sacrifice damage while tanking.
Blood Elf Names
Blood Elves favor the ideas and perceptions regarding the sun, the light, or the fire instead of the moon and darkness in contrast to the Night Elves. This is very evident with Blood Elf surnames such as Brightwing, Sunhallow, and Dawngloaw. However, their first name still has standard elven name convention with very few notable changes. Their words and names are derived from the Thalassian language, a derivative from the original Darnassian language.
Top 10 Male Blood Elf Names


Name

Pronunciation

Description

Mylkarr

/mil-kar/

This name describes a well-known and esteemed Blood Knight from Quel'Thalas.

Hailing from the forgotten Fireseed clan, Mylkarr is one of the few survivors of the Scourge invasion. He defended the gates of Silvermoon and was wounded. Thanks to the help of a few Farstriders, he survived and escaped the demise.

Bel'dorei

/bel-do-rei/

Meaning "Sun-born" when translated. He is a notable member of the Reliquary and has led many kinds of research together with the Horde's Explorer's League.

Bel'dorei seeks to find new sources of arcane energy that a Blood Elf can bring with them when venturing out of Quel'Thalas during campaigns.

Al'Desi

/al-de-si/

This male Blood Elf name describes a skillful and elite soldier belonging to the Sunblade regiment.

Al'Desi is one of the Sunblade warriors sent back by Kael'thas to escort Grand Magister Rommath to Quel'Thalas. He freed his brother, Al'Darei from being undead when they reclaim the Silvermoon capital.

Gharham

/gha-ram/

An adept hawk rider belonging to a band of Blood Hawks who guard the Eversong Woods after they liberated it from Scourge influence.

Gharham soars the skies above the Eversong Woods hoping that not another tragedy of the Scourge will befall in their lands.

Saladrym

/sa-la-drim/

A loyalist of Prince Kael'thas belonging to the Sunhawk faction.

Saladrym is one of the infiltrators of Exodar in Outland. Despite their efforts in sabotaging the vessel, they were held back and failed in their mission.

Kal'dazir

/kal-da-zir/

This male Blood Elf is often described as a "stout and well-built" warrior of the Dawnblade. His enormous built and strong body makes him a formidable foe.

Branded as the Greatsword of the Dawn, Kal'dazir can easily slice multiple enemies with a single swing of his Elven glaive.

Nol'thum

/nol-tum/

Meaning "Cunning Voice" when translated. Originally a member of the Sunfury regiment, he is someone capable of silencing foes, preventing them from casting magic and spells.

Nol'thum's name was derived from his famous arcane silence that prevents his targeted enemies from casting spells.

Narthran

/nar-tran/

This male Blood Elf name describes an agile and precise archer from the Farstriders regiment.

Belonging in the house of Brightwing, Narthran is one of the trusted scouts of the Farstriders. He saved numerous Blood Elves who were not turned undead during the Scourge invasion.

Dal'arys

/dal-a-ris/

This name describes a mighty and intimidating male Blood Elf who became a Death Knight during the fall of Silvermoon.

Now freed from the Lick King's grasp, he quickly returned to Quel'Thalas and was accepted despite him being an undead. He defected from the Knights of the Ebon Blade when he found out that Quel'Thalas is now being rebuilt.

Kove'thal

/ko-ve-tal/

A Blood Elf who struggled horribly with addiction and withdrawals to magic. He was a former magister of Quel'Thalas and was extremely stricken by withdrawals when the Sunwell was corrupted.

He joined the young prince in Outlands in search of a cure for their affliction. He, later on, followed the prince, despite the desertion of Voren'thal and the Scryers.
Visit our Blood Elf Name Generator for more male Blood Elf name suggestions. We have a library of ready-made names that can be used by players for free!
Top 10 WoW Female Blood Elf Names
Name

Pronunciation

Description

Ellardele

/el-yar-del/

An expert swordswoman from the Sunsworn military force. She is one of the prominent Sword Sisters under the Blood Knight Matriarch, Lady Liadrin.

Wielding her twin-blade, Nelkari, she can easily cleave most enemies in one swoop.

Salaaria

/sa-lar-ya/

This female Blood Elf name describes a reliable and hardy Blood Knight. She is known to protect her companions with her great shield and defensive magics.

Also known by the title Ar'Viyalga or The Vanguard. She tirelessly protects her companions from any threats during battle.

Vaneah

/va-ne-ya/

This name describes a devastating female Blood Elf known to master the art of arcane siphoning.

Vaneah's thirst for Mana is insatiable. She became addicted to the method of siphoning and transformed into a felblood elf from too many demonic energies.

Mavriel

/mav-ri-yel/

This name describes a female Blood Elf character versed with forest warfare and guerilla tactics.

Ranked as a Ranger-lieutenant, Mavriel is commonly tasked with anti-Scourge and anti-Troll operations around the Eversong Woods.

Naldathel

/nal-da-tel/

This female Blood Elf describes a powerful Illidari who accepted the blessings of the Betrayer.

Naldathel is one of the few Blood Elves loyal to Kael'thas who accepted Illidan's demonic legacy and became Demon Hunters in the Outlands.

Tyfara

/ti-fa-ra/

A powerful Blood Elf mage capable of incinerating enemies with her Sun-induced fire spells.

Blood Elves can harness light energies from the Sunwell to create incinerating spells that are most effective against Undead and demons.

Calriah

/kal-ra-ya/

This female Blood Elf name describes an exalted character who joined the Sunfury of Kael'thas; a group of a thousand Blood Elf mages who marched unto the Netherstorm to do Illidan's bidding.

Calriah was among the most powerful Blood Elf mages whom Kael'thas sent into the Outland. Whatever their purpose in the desolated place is still a mystery for most of them.

Delarah

/de-la-ra/

A high-ranking Blood Elf and a survivor of the Scourge invasion of Quel'Thalas. She is known to be one of the few gifted scholars who joined Kael'thas into Outlands.

Delarah saw the corruption of the Legion in Kael'thas' actions. She and Voren'thal gathered the Scryers and deserted Kael'thas' army and decided to return to Quel'Thalas.

Agathel

/aga-tel/

A sinister and secretive female Blood Elf Rogue belonging to the Sunreaver faction.

Agathel was sent as an envoy of the Blood Elves for the Horde. She joined the expedition to Northrend and witnessed the fall of the Lich King.

Helaira

/he-lay-ra/

Also known by the title Solari, she is considered a royal mage of the high elven King of Quel'Thalas.

She has an exceptional talent with the so-called Arcane Surges that typically causes outbursts of energy that can harm her foes.
More female Blood Elf name suggestions from our WOW Blood Elf Name Generator. We have a collection of ready-made names that players can use for free! Try it now!
Funny Blood Elf Names
The Blood Elves history is quite tragic. They lost their homeland and were almost eradicated on the face of Azeroth. Despite that, we're still going to make funny names for them! We all love funny names that we can use for our next WOW character. Check out some of our suggested funny names for the Blood Elves below.
Before you proceed, keep in mind that these names are just for fun purposes only. No insults or verbal abuse intended. Pun and jokes ahead.
| | |
| --- | --- |
| Name | Description |
| Bloodimir | A Blood Elf warlock who likes to siphon blood as mana. |
| Strawelves | A Blood Elf expert in sucking blood with magical straw. |
| Tomatoelves | Notice that Blood Elves have a liking for the color red? |
| Sindoremi | A Blood Elf great at singing. He is probably a Blood Elf bard. |
| Praise the Sun | This is a Dark Souls reference. Anu belore dela'na! (The sun guides us!) |
| HighBlood Elves | Admit it, this should be the name of High Elves who became Blood Elves! |
| Magik'adik | A Blood Elf addicted to magic. |
| Sunbathe | They hate the darkness and the moon, so they do sunbathe. |
| Nearstrider | Antonym of Farstriders. |
| Alwie Blooddonor | From the Blooddonor clan, Alwie is always ready to give his blood to those in need. |
Top Blood Elf Names Suggestions
In this section, we are giving you our Top 10 picks of our best Blood Elf name suggestions based on this guide. The ranking is based on our earlier suggestion for male and female Blood Elf names. We based the ranking on how the name sounds (is it good? Is it impressive?) and how relevant is the lore when it comes to the Blood Elf story. Check out the rankings below.
Rank

Name

Gender

Description

1

Ellardele

/el-yar-del/

Female

This name earned our top spot for two main reasons: First, the name sounds elven. The exaggerated spelling makes it look more like a Blood Elf name than a Night Elf name. Second, we took a liking to her background lore as a Sword Sister of the Sunsword. Her twin-blade, Nelkari, sounds awesome too, thus we are placing this name on the top spot.

2

Narthran

/nar-tran/

Male

The Farstriders of Quel'Thalas is the most heroic of all when we recall stories about the siege of Silvermoon. We decided to create a name for a heroic Farstrider who saved many lives of wounded Blood Elves. Plus, we associated the name to the Brightwing clan, the leading clan after Sylvanas fell and became a banshee.

3

Calriah

/kal-ra-ya/

Female

We love the background lore of Calriah. She is one of the powerful mages sent to the Outland to blindly follow the bidding of the Betrayer. What happened to the Sunfury in the Netherstorm? No one knows. Other than that, the name is elvish and has a nice tone for a female Blood Elf mage.

4

Dal'arys

/dal-a-ris/

Male

Undead High Elves are still High Elves if you ask us. We came up with an idea about a High Elf-turned-Undead who returned to Quel'Thalas after being freed from the Lich King's influence. He was welcomed to his homeland despite him being a Death Knight. Aside from this, the name sounds elven but not as striking compare to the first three names.

5

Vaneah

/va-ne-ya/

Female

With many months of not being able to satiate their hunger for mana, it is not for few Blood Elves to become addicted to siphoning mana. This name was created to fit this description: someone addicted to the siphoning. We also like the idea of her being transformed into a felblood elf due to overwhelming demonic energies.

6

Al'Desi

/al-de-si/

Male

This name is one of our favorite names in terms of lore. We like his background story about freeing his brother, Al'Darei, from being undead when they reclaimed Silvermoon. Quite tragic, yet a satisfying story to be told. For the background story of Al'Darei, see our Undead Name Guide.

7

Kal'dazir

/kal-da-zir/

Male

Elves are known to be slender yet strong. We came up with the concept of having a brutish or brawny Dawnblade warrior. The name also sounds elven and it gives us an outright idea that the character bearing such a name is formidable and full of strength.

8

Mylkarr

/mil-kar/

Male

What we like about this name is it can be gender-neutral. It fits for a male or female character. Aside from that, we also love his background story; being a survivor of the siege of Silvermoon and living another day to fight again.

9

Agathel

/aga-tel/

Female

The Sunreaver faction is the representative of the Blood Elves for the Horde. We came up with a name for a Blood Elf Rogue belonging to this faction. The name sounds mysterious and we find it suitable for a Blood Elf Rogue.

10

Naldathel

/nal-da-tel/

Female

Finally, we came up with a name for a Blood Elf Demon Hunter. Naldathel sounds strong and corrupted, which is fitting for a Demon Hunter character.
For other race-specific names for World of Warcraft, try Name Generator. We have a huge library of read-made unique names that players can use for their next WOW character—for free!