Special Hobgoblin Names Guide and Suggestions DnD 5e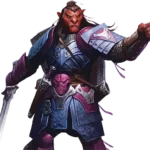 This DnD Hobgoblin name generator will help you find the right name for your character.
If you are using Hobgoblins in your RPG game, then you will need to find the right Hobgoblin name.
You can use the names as written or get ideas to help you brainstorm your options. In the post below, you will find more information that might help you find the perfect name you have been searching for. 
Hobgoblins belong to the family of Goblinoids together with the Bugbears and Goblins. Each of the three Goblinoids is different from one another; as much as Humanoids vary from Elves, Dwarves, Halflings, and Humans. Unlike the Goblins who consider cowardice and escape as a fair chance to survive or the Bugbears who prefer to doze off most of the time, Hobgoblins are more disciplined, organized, and battle-ready. They live in encampments with governing laws and rules. They have a high standard in terms of honor and a concept of civility.
Despite the Hobgoblins having a civilized settlement, they conceal behind it a dark and brutal culture that only Hobgoblin experience within their camps. In this guide, we'll get to know more about the culture and nature of the Hobgoblins. We'll introduce you to some of our Best Male and Female Hobgoblin names and Best Hobgoblin Captain and Warlord names. Not only that, let's add to the list some Funny Hobgoblin names and a ranking of our Top Hobgoblin Names Suggestions for Dungeons and Dragons 5th Edition.
Exciting! You may skip and jump to our D&D 5e Hobgoblin Name Generator for more ready-made names. The names are new, unique, and free!
Death Over Cowardice
Yes, you read that right. Hobgoblins will choose death over the shame of cowardice. They find it terrible, utterly disgusting, and shameful. Hobgoblins would rather die in battle than run away from it. Reminds us of Nordic culture from The Elder Scrolls, yes? They believe that their deeds when they are alive are carried to the afterlife. There's also this saying from Volo's Guide to Monsters: : A hero in death becomes a hero eternal. Hobgoblins wield their first weapon of choice at a very young age. From the moment they can walk to the moment they can swing a sword; Hobgoblins train to prepare for battle.
Hobgoblins have a very high standard for military honor. They retell their history to their youngsters to keep their knowledge fresh, or maybe to motivate them to soldier at a young age. When Hobgoblins are not at war with another race or country, they spend most of their lives farming, building settlements, fortifying fortresses, and practicing martial and arcane arts.
One might find the Hobgoblins simple and peaceful when not waging wars. But behind the civility is their brutality that they exercise on each other. Disobedience to any written law equates to a merciless and swift punishment. It may vary from cutting a finger to beheading, depending on the crime committed.
When it comes to lifestyle, Hobgoblins have no artistic sense. They only find beauty as something associated with conflict or warfare. A severed head on a pike, or a burning enemy camp, now that's a beauty! They do not have an appreciation for arts and may tend to destroy paintings, golden treasures, or any puny things that Humans collect.
All in all, Hobgoblins live to fight wars or live at peace (while preparing for war). War is their life, and war is all that they will think about. Below is the summary of Hobgoblin's racial features and traits.
Attribute/

Skill Trait

Effect

Ability Score

Increase

Hobgoblins are hardy and brute. Though not as brute as the Orcs, but they are more intelligent than them. They have a bonus +2 to Constitution and a bonus +1 to Intelligence.

Age

Surprisingly, Hobgoblins age at the same rate as humans. Their lifespan is also the same as humans.

Alignment

Hobgoblins are bounded by traditions and strict rules. They have an unforgiving code of conduct. They are Lawful Evil.

Size

Medium-sized. Hobgoblins' height ranges between 5 to 6 feet and weighs around 150 to 200 pounds.

Speed

Hobgoblin's base walking speed is 30 feet.

Darkvision

Darkvision is an inherent trait for any Goblinoids. They can see through dim light like bright light and see in total darkness like dim light.

Hobgoblins cannot decipher color in total darkened areas and perceived it as grayish.

Martial Training

Hobgoblins learn to wield a weapon of their choice at a very young age until they can master it. They have proficiency with any two martial weapons of their choice and with light armor.

Saving Face

Hobgoblins despite a show of weakness especially in front of their allies. When missing an attack roll, or failing an ability check, or failing a saving throw, Hobgoblins gain a bonus to the roll equal to the number of allies that they can see within 30 feet (max of +5).

This trait can only be used again after finishing a short or long rest.

Languages

Hobgoblins can speak, read, and write in the Common and Goblin tongue.
Don't limit yourself! Visit our D&D Hobgoblin Name Generator for some quick 5e Hobgoblin name ideas. You may select from a variety of ready-made Hobgoblin names and use them for your D&D character! It's free!
Best DnD Male and Female Hobgoblin Names
Like the Goblins and Bugbears, Hobgoblins also have the husky tone in their names. The name should be short, discrete, and easy to remember. Their names are associated with their military achievements, their expected feats, and their inherent nature as leaders or soldiers. They do not have a distinction for male or female names but we'll try to indicate possibilities for few gender-specific names.
Name

Pronunciation

Gender

Description

Kozol

/ko-zol/

Male

You are a shrewd male Hobgoblin when using this name. You are good at assessing situations and respond accordingly with ferociousness and grit.

Kozol knows a variety of warfare tactics from clean, to dirty ones.

Hazug

/ha-zug/

Male or Female

This Hobgoblin name is for characters who display solid tenacity in battle You excel in battle above anything else and you feel no blade or magic of your foes.

"Gradaki! Gradaki! Hazug tra jari"

(Make way! Make way! Hazug is here)

Daxyl

/dak-sil/

Male or Female

Blood and dead bodies are your definitions of art. You are a dreadful Hobgoblin who indulges the aftermath of the battle; savoring it as if war is something pleasurable.

"hahahaha! Shala ner grol vrita, sha leda kura."

(hahaha! So many fallen foes, so little time to savor."

Nurkal

/nur-kal/

Male or Female

This Hobgoblin name is associated with the word 'might'. Other Hobgoblins look up to you and find you a perfect heir as the next Warlord. Your leadership and skills in battle are what made others respect you.

"Gro kita Nurkal!" (Hail Nurkal!) cried the footmen as you stuck the horde's banner at the top of the conquered fortress.

Kor'var

/kor-var/

Male or Female

This Hobgoblin name is for characters who are unshakeable and unwavering on the front lines. The Warlord calls you "the Adamant", a title you'll carry for the rest of your life.

Kor'var the Adamant is a Hobgoblin captain, one of the few trusted officers of the current Warlord.

Gru'waki

/gru-wa-ki/

Male or Female

'Boorish', as others call you. Gru'waki is a name for a bad-mannered Hobgoblin. You hated rules and tradition. You solve problems with fighting, and most of all, treat every Hobgoblin around you as another creature to compete with.

Gru'waki was imprisoned and punished many times for his blasphemous lifestyle and lawbreaking. He was an important asset in wars, however.

Dog'l

/dog-ul/

Male

When using this male Hobgoblin name, you are a young Hobgoblin who enlisted under the Fatal Axe regiment. They call you 'gutsy', for being courageous despite your young age.

He earned his position in the ranks when he stormed a Human encampment alone, claiming the head of a veteran lieutenant.

Ungdar

/ung-dar/

Female

Meaning 'Valiant'. Your female Hobgoblin name presides your character. Others look up to you with deep respect and adornment, others look at you foolishly and treat you as a pretender.

Ungdar the Valiant, was known to save the life of a Warlord from an assassination attempt thus granting her the title.

Grhash

/grash/

Female

Meaning 'Ablaze'. Your Hobgoblin name came from your small temper. You are a hot-headed female Hobgoblin who gets irritated for the smallest reason there is.

Grhash was said to be a demi-Hobgoblin and was said to have a Tiefling ancestry. None of this gossip was proven though.

Har'hai

/har-hay/

Male or Female

When using this Hobgoblin name. you are a character employed as a negotiator or diplomat sent by the Warlord to offer treaties or wars to other nations. The Hobgoblin Warlord calls you 'The Tamer'.

Har'hai is the mouth of the Hobgoblin legion for domestic or foreign relations.
More male and female Hobgoblin name suggestions from our D&D Hobgoblin Name Generator. You may select from a variety of ready-made Hobgoblin names to help you have Hobgoblin name ideas.
Military Ranks of Hobgoblins
Just like in any military, there exists a hierarchy for every Hobgoblin legion. The highest rank is the Warlord, followed by the General. The third-ranking officers are called Captains and a few elite Hobgoblins are placed on the Fatal Axe ranks. The lowest ranking soldiers are placed on either the Spear ranks, Fist ranks, or Soldier rank.
Hobgoblin Warlord vs Hobgoblin Captain
Los Señores de la Guerra Hobgoblin son los oficiales militares de mayor rango en una legión Hobgoblin. Unen a todo el ejército en sus estandartes. Formulan estrategias de asedio para conquistar eficazmente un territorio que ellos aprecian. El asedio Hobgoblin suele ser una batalla de desgaste. La mayoría de los asentamientos o fortalezas caen víctimas de la estrategia de un Señor de la Guerra Hobgoblin. Estudian las zonas circundantes, cortan cualquier suministro de agua que entre en la fortaleza, bloquean cualquier ruta de escape y matan de hambre a sus enemigos hasta que se rinden. Aunque éstas son estrategias comunes de los Humanoides durante un asedio, es bastante sorprendente poder ver a criaturas Goblinoides haciendo lo mismo.
Una Legión Hobgoblin está liderada por un único Jefe de Guerra Hobgoblin y opera de forma organizada a través de sus Generales Hobgoblin. Pero la parte más importante es la ejecución de los planes y estrategias implementados y asegurados por los Capitanes Hobgoblin. El Capitanes Hobgoblin reciben órdenes directas de los Generales o del propio Caudillo. Los Capitanes Hobgoblin son disciplinados y leales. Se aseguran de que el asalto planeado se lleve a cabo, disciplinan a las tropas de bajo rango y entrenan a otros para que sean futuros Capitanes del ejército. En términos de estadísticas en el juego, hay una gran diferencia entre el Hobgoblin Warlord y el Hobgoblin Captain como se resume a continuación:
 

Capitán Hobgoblin

Hobgoblin Señor de la Guerra

Habilidades

Fuerza

15 (+2)

16 (+3)

Destreza

14 (+2)

14(+2)

Constitución

14 (+2)

16 (+3)

Inteligencia

12 (+1)

14 (+2)

Sabiduría

10 (+0)

11 (+0)

Carisma

13 (+1)

15 (+2)

Rasgo

Ventaja marcial (menor)

Ventaja marcial (mayor)

Acción

Multiataque (menor)

Multiataque (mayor)

Gran espada

Espada larga

Jabalina

Escudo Bash

—

Jabalina

Liderazgo

Liderazgo

Reacciones

—

Parry
Más sugerencias de nombres en la próxima sección. Dé un rodeo y visite nuestro D&D Hobgoblin Name Generator para más nombres e ideas de nombres de Hobgoblin increíbles y únicos.
Los mejores nombres de Señores de la Guerra Hobgoblin de DnD
Los Señores de la Guerra Hobgoblin son los tiranos despiadados que organizan vastas legiones Hobgoblin. Están especializados en estrategias y siempre afirman la victoria. Tienen una gran reputación entre las filas Hobgoblin, y son el cerebro de las invasiones e incursiones sistematizadas de la legión.
A continuación se sugieren algunos nombres para los Señores de la Guerra Hobgoblin.
Name

Pronunciation

Gender

Description

To'Ovas

/to-o-vas/

Male

También se te conoce como "el Tirano" cuando usas este nombre de Señor de la Guerra Hobgoblin masculino. Te coronas como gobernante absoluto de toda la legión y solo alguien más fuerte que tú puede reemplazarte.

To'Ovas reclamó el título de Señor de la Guerra cuando derrotó a todos los aspirantes más fuertes de las 12 tribus de la Legión.

Kauvlag

/kaw-lag/

Female

Kauvlag significa "entusiasta". Eres una Jefa de Guerra Hobgoblin amante de la conquista. Prefieres presenciar el auge y la caída de las ciudades que invades detrás de los altos cuarteles de tu campamento.

Ningún plebeyo sabe qué aspecto tiene Kauvlag. Se la conoce como "Ani'no Guhr", que significa Gobernante de las Sombras.

Neleng

/ne-leng/

Female

Este nombre de Señor de la Guerra Hobgoblin femenino se traduce de algún modo como "Glorioso". Los ejércitos Goblinoides unidos bajo tu estandarte consideran cada combate en el que participaron como lleno de gloria.

Neleng es la única mujer Señor de la Guerra que ha sido capaz de agrupar una Legión de Goblins, Bugbears y Hobgoblins. Los estandartes de Neleng son temidos en los pantanos del sur.

Firaag

/fi-ra-ag/

Male or Female

Eres un veterano de guerra cuando usas este nombre de Hobgoblin Warlord. Has sido testigo de muchas batallas y tienes experiencia relevante sobre cómo puedes cambiar la marea de la batalla a tu favor.

Firaag sufrió quemaduras en el brazo derecho y la cara cuando luchó y mató a un poderoso piromante. A veces le llaman "El Chamuscado".

Raga

/ra-gah/

Male

Eres un astuto Señor de la Guerra Hobgoblin masculino cuando usas este nombre. A menudo te ríes de las travesuras de los enemigos que caen en tus engañosas tácticas y trampas.

Raga implements unethical strategies in warfare such as using poison, using corpses of the enemy, and detaining civilians.
Best DnD Hobgoblin Captain Names
Hobgoblin Captains are the loyal followers and implementors of the Warlord's strategies. They are the ones who restrain the troops and prevent any violence among the soldiers themselves. They are responsible for promoting the cooperation of the legion across the battlefield.
Below are some suggested names for Hobgoblin Captains.
Name

Pronunciation

Gender

Description

Agrosk

/ag-rosk/

Male

The Hobgoblin Generals call you an 'ardent willed' Captain. You are an enthusiastic Hobgoblin Captain who takes his job seriously. You dislike disobedience and tend to discipline your squad.

'The Disciplinarian', as the low-rank soldiers name you.

Vavir

/va-vir/

Female

This female Hobgoblin Captain name is associated with the word 'principle'. You are respected by your fellow captains and foot soldiers. They treat your beliefs and principle in battle as unique and honorable.

Her principle revolves around two things: to carry the mission as expected, and to offer your life for the cause.

Havugra

/ha-vug-ra/

Male or Female

You are a young and amateur Hobgoblin Captain. You were able to earn your rank at an early age because you displayed great courage in face of danger.

His courage and unquestioning service earned him the title "Havu'gaet" or 'Valor' in the Common tongue.

Bagaro

/ba-ga-ro/

Male

When using this male Hobgoblin name, you are a Hobgoblin Captain who likes to ignore standard procedures and orders and would impulsively order your troops to storm the enemy outright.

Bagaro is an impulsive Hobgoblin Captain. He orders his troops to charge at the enemies without proper coordination or strategies. His method seems to work most of the time, however.

Zrraab

/zra-ab/

Male or Female

You are a Hobgoblin Captain that is proficient with spears. They call you 'the Impaler Captain'. Fellow Hobgoblins adore your spear techniques and enemies fear you in battle.

Zrraab the Spearwielder trained with some nomadic monks during his younger years. His knowledge with spears is superior and most Hobgoblins call him 'Husta Jiser' or the 'Spear Hero'.
A Guide to Funny Hobgoblin Names
We defined the Hobgoblin as a ruthless race with unforgiving laws and traditions. They are militaristic and always prepared for battle. But does not stop us from giving them some funny and creative names! Let's add some humor in the names of our Hobgoblin fellows. Check them out below.
Name

What makes it funny?

Adlf'Htlr

No! You read it wrong. It's /ad-lif-heyt-lor/. It's not what you're thinking.

Venn'Ten

An intergalactic Hobgoblin who has a collection of Hobgoblin characters in his wristwatch.

Abich

/a-bich/

An intrusive Hobgoblin… She's definitely a B.

Rawr!

Take note, the exclamation symbol is included in this name. Rawr! A Wild and naughty Hobgoblin.

Kebab

Why not? We love Kebabs!

Crink

Apparently, this Hobgoblin has a habit of buying illegal drugs from a Tiefling vendor… What he does with the drug, no one knows.

Bibi Yigi

The John Wick of Dungeons & Dragons. So many hired Tiefling assassins and rogue Changelings were hired to kill him. Only to end up being defeated… casually.

Skrubidubi

Skrubidubidu Where are you? We need some help from you now.

Figaro

He likes Italian cuisine. Oh, is it Italian?

Ay'Nub

(I Noob)

A newbie Hobgoblin. Be kind to him, okay?
You might find more funny names from our D&D 5e Hobgoblin Name Generator. Generate your own Hobgoblin name and use it to your D&D games that match your playstyle. Don't forget the humor!
Top Hobgoblin Names Suggestions
We are now at the concluding part of this guide. You were able to get to know more about the Hobgoblin race. They're awesome, we know! And they are a considerably nice Monster Race that you can pick for Dungeons and Dragons 5th edition. For the final list, we'll present our Top 10 Best Hobgoblin names based on our earlier name suggestions. We will base the ranking on how good the names are based on their tone, lore, and relevance to the Hobgoblins. There's also a bit of bias from us because we already like some of the names we suggested. Let's check them out below.
Rank

Name

Gender

Rank Suggestion

Description

1

Kozol

/ko-zol/

Male

Warlord

Kozol is defined as a shrewd Hobgoblin who knows clean or dirty tactics in battle. We like the simplicity f the name and how 'Hobgoblinish' it sound. We also like the lore suitable for a Hobgoblin Warlord.

2

Vavir

/va-vir/

Female

General

Captain

The female Hobgoblin name 'Vavir' sounds very Goblinoid. We like her definition as someone who carries her basic principle in battle; a good fit for a Hobgoblin General or Captain.

3

Kauvlag

/kaw-lag/

Female

Warlord

The Shadow Ruler. 'Kauvlag' has a nice tune in it when pronounced. We like the concept of a female Hobgoblin Warlord who prefers to work behind the scenes and rarely seen in action. 

4

Ungdar

/ung-dar/

Female

Captain

Fatal Axe

Earning the 4th spot is the name Ungdar. She is an empowered female Hobgoblin Captain (or other ranks possible) and is widely respected and adored by others. We find the name cool, ok we admit.

5

Nurkal

/nur-kal/

Male or Female

Warlord

When we use this Hobgoblin name, we picture a Warlord celebrating his victory after successfully besieging an elven stronghold. He is associated with the word 'might' and everybody looks up to him with respect. We all want to see this trait for a king!

6

Zrraab

/zra-ab/

Male or Female

Captain

Spear

The Husta Jiser, or the Spear Hero. We like the background lore of the name, like living with the monks for most of his younger years. Hobgoblins are civilized creatures, so they can live with other races. Zrraab deserves the 6th spot. All hail the Impaler!

7

Neleng

/ne-leng/

Female

Warlord

Captain

Another candidate for an awesome female Hobgoblin Warlord. We love the lore about her. She was able to create a legion of mixed Goblinoids under her banner. Not only that, her banners alone strike fear to those who see them. The name and the lore are powerful indeed!

8

Har'hai

/har-hay/

Male or Female

General

Captain

The Mouth of the Legion. Why not pick a Hobgoblin name that sounds peaceful? Well, here it is. This name is for characters who have great wisdom and communication skills. They are good diplomats and negotiators. That's cool for a change, right?

9

Bagaro

/ba-ga-ro/

Male

Captain

Fatal Axe

Yes, Hobgoblins have unforgiving laws, but not for Bagaro. He doesn't care if the General wants to do a formation. If he feels like attacking, he will attack. But sometimes we think that his impulsiveness may also be based on how well he understands the battle. Nevertheless, we are placing this name on the 9th spot for the good lore and nice rough name.

10

Raga

/ra-gah/

Male

Warlord

General

The cunning Hobgoblin. We place Raga on the 10th spot because the name is not much exquisite compared to the first 9 names. But the lore is great. We picture him as someone who does unethical strategies in battle. By unethical we mean something inhumane, and unimaginable; all to defeat his foes.
For other race-specific names for DnD 5e, visit our D&D 5e Name Generator. It's fun, easy to use, and free.
External Sources:
1. Volo's Guide to Monsters: Chapter 1: Monster Lore, Goblinoids: The Conquering Host, Hobgoblins, pg. 45
2. Volo's Guide to Monsters: Chapter 2: Character Races, Monstrous Adventurers, Hobgoblin Traits, pg. 119
3. Monster Manual, Hobgoblins, Military Legion, pg.187
4. Monster Manual, Hobgoblins, Hobgoblin Captain, pg.187
5. Monster Manual, Hobgoblins, Hobgoblin Warlord, pg.188