Tauren Names Complete Guide and Name Suggestions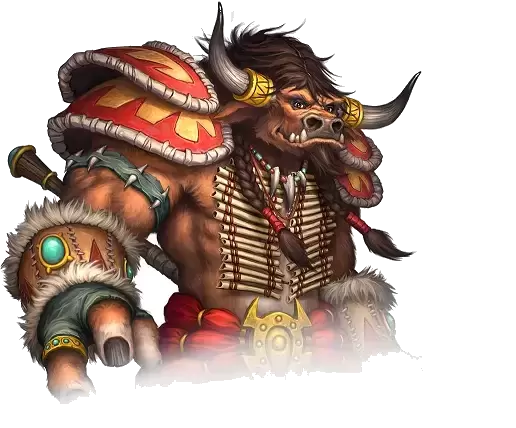 This World of WarCraft Tauren name generator will help you find the right name for your character.
If you are using Tauren in your MMORPG game, then you will need to find the right Tauren names.
You can use the names as written or get ideas to help you brainstorm your options. In the post below, you will find more information that might help you find the perfect name you have been searching for. 
The Taurens of Kalimdor and the Highmountain Taurens share the same lineage from a bovine race known as the yaungol. The yaungols are yak-like humanoids who roamed the ancient Kalimdor, living in peace under the guidance of the Wild God Cenarius. They were driven southward when the trolls started to occupy and share with them some of their hunting grounds. Going south, the yaungol reached the borders of the Mogu empire. The mogu emperor, Qiang the Merciless, enslaved all the arriving yaungol and ordered his flesh-shapers to experiment on them. They modified and enhanced the bovine race's strengths, viciousness, and intellect. Eventually, the yaungol joined the Pandaren's rebellion against the Mogu empire until they liberated themselves from slavery. Despite gaining back their freedom from centuries of enslavement, much of their cultural heritage was lost. The yaungols started to argue among each other, forcing some of them to migrate back to the north. One group traveled far north to the Storm Peaks and eventually called themselves taunaka; the other group settled in the areas surrounding the Well of Eternity. There, they were reunited with Cenarius and rediscovered their ancient heritage. The energies of the well transformed these yaungol into a new race which we now called the Taurens.
In this guide, we'll get to know a bit more about the Taurens of Kalimdor and how they end up participating in the wars of the Horde. You'll be guided to a list of our WOW Top Male and Female Tauren Names Suggestions, some WOW Funny Tauren Names, and a ranking of our Top WOW Tauren Name Suggestions.
If you're feeling lucky, try our WOW Tauren Name Generator for some quick Tauren name ideas and references. Our smart generator has a collection of ready-made Tauren names that you can use for free.
On the Brink of Extinction
Not much is recorded about the Taurens after they participated in the War of the Ancients and after the reclamation of the Highmountain Taurens in their ancient homelands. Approximately a thousand years before the Dark Portal, the Taurens wandered freely in forests and plains of the western continent of Kalimdor. A particular region in Kalimdor is sacred for the Tauren: the grasslands of Mashan'she, also known as "Loom of the Earth Mother". The Taurens were convinced that beneath the meadows, the Earth Mother sleeps. The Tauren Shamans attempted to wake her from the depths of the grasslands and eventually succeeded after numerous trials. However, it is not the Earth Mother to whom they awaken but the earth elemental Princess Theradras. Theradras quickly siphoned the energies of the surroundings as sustenance to regenerate her weakened form, transforming the grasslands into a desolate barren land called Desolace.
The loss of life in Mashan'she reached the attention of some of the Wild Gods in Kalimdor. Zaetar, son of Cenarius, decided to travel to Desolace to investigate. There he found Theradras siphoning endlessly the life of the earth. Instead of imprisoning Theradras and stop her siphoning, Zaetar fell in love with her. Theradras and Zaetar became mates and from their forbidden union born the first set of centaurs. Zaetar, upon seeing his children, realized his mistakes.  The centaurs saw the disgust of their father in their race and they became enraged. In turn for this disgust, the centaurs brutally murdered Zaetar. The centaurs started to emerge and populate most of the lands of Desolace, where they encountered the Taurens for the first time. The centaurs started to drive the Taurens away from their homes which formally initiated a long war between the centaurs and the Taurens. The centaurs hunt the Taurens for sport as if they are but wild creatures living for entertainment. For many generations, the centaurs became the most hated enemy of the Taurens. 
The scattered tribes of the Tauren became united because of their common hatred against the centaurs. Their current chieftain, Cairne Bloodhoof, seeks out aid from some of the green-skinned warriors that they saw arriving from the eastern seas. Desperate for help, Cairne befriended the orc warchief Thrall in the hopes of aiding them in their fight against the centaurs. Thrall and his newly organized Frostwolf Orcs and Darkspear Trolls recognized the Taurens as their blood kin for their shared beliefs in honor and shamanism. With the Orc's help, the Taurens were able to defeat the centaurs and claim most of the grasslands of Mulgore. For the first time, the Tauren were able to claim land for their own. The newly established settlement was called Thunder Bluff, home for any Taurens from any tribe. To repay the debt they had from the Orcs, the Taurens of Thunder Bluff swore their allegiance to the Horde.
Tauren Appearance
The Taurens of Kalimdor share the same characteristics as the Highmountain Taurens. The only difference is the horns; by which the Highmountain Tauren have moose-like horns from the blessings of Cenarius. A Tauren's average height range at around 10 ½ feet tall for males, while females being slightly shorter. Their bodies are masculine and they have a stout physique and brawny built. Fur covers their body, with males growing thick manes along their head and neck. Male and female Taurens wear long hairs. Male Taurens braid their hair with decorative bands or ropes. Tauren's fur color varies from black to blond, with few having white or gray spots.
Tauren Traits and Classes
There are six available classes for the Tauren race as summarized in the table below:
Class

In-Game Role

Class

In-Game Role

Warrior

Tank or Melee Plate DPS

Paladin

Tank, Healer, or Melee Plate DPS

Hunter

Melee or Ranged Mail DPS

Priest

Healer or Ranged Cloth DPS

Shaman

Healer, Melee or Ranged Mail DPS

Monk

Tank, Healer, or Melee Leather DPS

Druid

Tank, Healer, or Melee Leather DPS

Death Knight

Tank or Melee Plate DPS

(Available with the Shadowlands pre-order)
The Tauren Racial Traits are summarized below:
Skills/Passive

Description

Brawn

[Passive]

Tauren's brawny physiques grant them vigor.

Increases Critical Strike Bonus damage and increases Healing by 2%.

Cultivation

[Passive]

Taurens have a strong affinity for nature. They gain a bonus in herbalism and herb gathering.

Herbalism skill increased by 15. Taurens gather herbs faster than normal herbalists.

Endurance

[Passive]

Tauren's superior constitution grants them bonus stamina.

This trait increases the base stamina of a Tauren by 197 (scales with level).

Nature Resistance

[Passive]

Taurens are resistant to Nature Magic.

This trait reduces Nature damage taken from any source by 1%.

War Stomp

[Skill]

With brute strength, Taurens can shake the ground with a powerful stomp from their hooves.

Stuns up to 5 enemies for up to 2 seconds in an 8-yard radius.
Editor's Notes: Based on the racial passives and traits, a Tauren character is best played for a tank role, especially for new players. The added Stamina, Healing, and Resistances make any Tauren character durable. For this reason, a Tauren Warrior, Tauren Paladin, or a Tauren Death Knight is a good choice. A player can also abuse the Brawn trait by taking advantage of the increased healing. For this, a Tauren Shaman or Tauren Priest is a nice choice. Moreover, players can explore other classes that they find suitable for their playstyle.
More Tauren name suggestions from our Tauren Name Generator. Our smart Name Generator contains ready-made names that one can use for their next WOW character. Try it now for free!
Tauren Names
Highmountain Tauren and Tauren names are most likely the same in terms of how they sound and how they were created. Tauren names have a hard and low-sounding tone. Most Tauren names have two syllables with some having, at most, three syllables. Tauren names are given at birth but an adult Tauren may rename themselves by undergoing an adulthood ceremony. Adult Tauren names describe an important event in their lives that made an impact or changes in their perspective or personalities.
Top 10 WOW Male Tauren Names
| | | |
| --- | --- | --- |
| Name | Pronunciation | Description |
| Kaidan | /kay-dan/ | A male Tauren Shaman who practices protective magics. He communes with the earthen spirits to bless the Horde soldiers with protection and luck. Kaidan believes that the earth is sacred and its blessings are the most important favor one should seek. |
| Melgor | /mel-gor/ | Also known as "The Pulverizer". This Tauren name describes a brute totem-wielding Tauren who can pulverize enemies by pounding the ground with his oaken totem. |
| Ohlar | /o-lar/ | This Tauren name describes a mighty Tauren fighter who fights with his earthen mace and horns. Ohlar is known to charge head-on to enemies, breaking shield walls and defensive formations to give way for the Horde's advance. |
| Giorthan | /gi-yor-tan/ | Giorthan describes a male Tauren with formidable strength and physique. He is said to ram one of the Legion's captain during the Battle for Broken Shore before ultimately retreating the leftover Horde to safety. |
| Warhand | /war-hand/ | Also known for his birthname "Kaz'lar", is a powerful Tauren Druid that can shapeshift parts of his body to gain advantages in battle. He can shift his arms to gain feline claws, or transform his horns into greater horns to skewer enemies. |
| Nalunar | /na-lu-nar/ | A Tauren name describing an old and wise character. Nalunar is a direct descendant from the third generation of Kalimdor Taurens who existed before the Great Sundering. His wisdom and knowledge are sought by young Tauren chieftains who aspire to greater feats for their tribe. |
| Wildsoul | /wild-soul/ | This male Tauren name describes a tranquil Tauren warrior. Wildsoul is a serene and calm Tauren but is proven to be one of the deadly warriors of the Horde when provoked. |
| Ralgar | /ral-gar/ | A skilled Tauren who wields an axe and short spear. Born as a hunter, Ralgar uses his hunting skills in fighting the enemies of the Horde. He imparts shares his knowledge of wilderness survival to the trolls and Orcs of the Horde. |
| Holgran | /hol-gran/ | Holgran is a renowned enchanter in his tribe. His knowledge of herbs and exotic flowers allowed him to create concoctions and healing remedies that the Horde uses in their expeditions. |
| Yezzil | /ye-zil/ | Yezzil is a prudent and wise adviser of a Tauren chieftain. Hailing from the Bloodhoof clan, he shares the same tactfulness and diplomacy as with the famous Cairne Bloodhoof. |
More male Tauren name suggestions from our WOW Tauren Name Generator. We have a collection of ready-made names that players can use for their World of Warcraft characters—for free!
Top 10 Female Tauren Names
| | | |
| --- | --- | --- |
| Name | Pronunciation | Description |
| Shenhar | /shen-har/ | A female Tauren name originating from the Taur-ahe language of the Tauren. Shenhar means "Sunrise" in the Common tongue. Shenhar was born exactly at the peak of dawn. Her parents see this as a blessing from the sun and so she was named after it. |
| Gairu | /gay-ru/ | A Tauren name describing a brutal and ferocious warrior. Gairu, also called "Madrock", was exposed to fel energies during the Third War for Mount Hyjal. Despite this, she became a valuable asset for the Horde in their fight against the Scourge of Lich King. |
| Olma | /ol-ma/ | The kind and caring Tauren Shaman. Olma is one of the oldest Tauren Shamans in Thunder Bluff. Her wise words are sought by Orcs and trolls in understanding the venerable and great lands of Desolace. |
| Zykkal | /zi-kal/ | Also known by the names "An'Mag-a" or "The Mage". Zykkal is a powerful sorceress known to conjure nature elements to create offensive and destructive spells against enemies. |
| Jyaral | /ja-ral/ | This female Tauren name describes a character who wields Frost magic. Jyaral is a northerner, belonging to the Echeyakee tribe; also known as the Whitemist tribe. They are a group of Tauren Mages who masters Frost Magic. |
| Irgal | /ir-gal/ | This name describes an influential Tauren Paladin. While it is rare for Taurens to enter the services of the Church, few find the divine teachings and magic fascinating. Irgal, riding a Kodo mount, joined the Alliance in the Third War against the Scourge. |
| Fuolga | /fu-wol-ga/ | A female Tauren is depicted as someone with unfathomable strength. To where she draws such strength is a mystery to most of the Taurens. She is said to lift an entire siege tower aside all by herself. |
| Ardwa | /ard-wa/ | This name is for Tauren warriors who displayed great feats and heroic deeds in war. The name Ardwa is given to a single female Tauren who has an exceptional achievement in war such as rescuing civilians, protecting settlements, and preventing raiders. The selected Tauren bear this name and will only be reused once they die. |
| Horna | /hor-na/ | Horna is considered a unique Tauren warrior among the tribes of Thunder Bluff. She possesses a broad and white horn that is said to be covered in diamonds. Although she already debunked that her horns were made of diamond, one cannot ignore that these horns are sharp and deadly if punctured. |
| Palgga | /pal-ga/ | Branded as "The Breaker" by her fellow warriors, Palgga gained a high reputation by claiming the kill of a Legion's Eredar commander. He tore the body of the Eredar which created fear on the Legion's minions, thus preventing further advances towards Mt. Hyjal. |
For more female Tauren names, check out our Tauren Name Generator. Try it now for free!
Funny Tauren Names
While we find the Taurens brawny and hardy, we can still put some funny and hilarious names for them. Like everyone else, we like using funny names in any of our in-game characters. Set aside those serious Tauren names and check out some of our suggested Tauren Funny names below.
Before you proceed, keep in mind that these names are just for fun purposes only.
| | |
| --- | --- |
| Name | Description |
| Meiji | Ding ding! It's your famous Tauren seller of milk. |
| Stompede | A Tauren who kills enemies by stomping on them… repeatedly, in a back-and-forth direction. |
| TILF | TILF is an abbreviation for the phrase "Taurens I Love to Fight". Yes, don't get us wrong in this name idea. |
| Kanye Soredhoof | A tired Tauren warrior. Let him rest once for a while, that totem is quite heavy. |
| Byeson | A Tauren chieftain who likes dad jokes. |
| Burgeroo | Probably the beefiest Tauren in all Thunder Bluff. No wonder centaurs like hunting Taurens. |
| Bullet | Not really funny, but it may mean two things: A deadly bullet, or a small bull. |
| Raigan Tenderbeef | He sounds powerful, and tender, and juicy. Oh, wait. |
| UnBULLievable | An unbelievable Tauren. |
| Cowtious | A very cautious and slow Tauren. |
Top WoW Tauren Names Suggestions
We're now at the endpoint of this guide. As a conclusion, we are creating a list of our ranked Top 10 Tauren Name Suggestions. We based this ranking on two factors; how Tauren-like is the name and how relevant or good is their background lore. Check out the rankings below.
Rank

Name

Gender

Description

1

Melgor

/mel-gor/

Male

Melgor The Pulverizer gives us a nice representation of a strong and abled Tauren warrior. We see him as one of the totem-wielding Taurens we first saw on Warcraft III. Overall, the name sound Tauren and the lore is awesome.

2

Ardwa

/ard-wa/

Female

We like the concept of this name being bestowed only to a single female Tauren who displayed heroic deeds. Moreover, the name is Tauren-like and sounds noble.

3

Wildsoul

/wild-soul/

Male

Taurens are not violent creatures but they are formidable opponents when provoked. Wildsoul is an example. He is a deadly warrior but would prefer a non-violent solution to conflicts. We like this name, on how related it sounds to the Tauren and how good it describes a Tauren attitude.

4

Fuolga

/fu-wol-ga/

Female

We described Fuolga as a character with unfathomable strength. We like the concept of her story where her strength's source puzzles the Taurens. We are placing her on this spot for the nice Tauren-like name and lore.

5

Kaidan

/kay-dan/

Male

The name Kaidan describes a support-type character. What we love about this name, aside from it being very Tauren-like, is his capacity to commune with earthen spirits to bless his comrades in battle.

6

Zykkal

/zi-kal/

Female

We place a fan-made word on this name "An'Mag-a" to describe her as a powerful mage. The name sounds Tauren and we liked it more because we were able to associate the name from the Taur-ahe language.

7

Giorthan

/gi-yor-tan/

Male

We are including in this list a name that we find interesting because of its involvement in the Third War against the Burning Legion. The name is already Tauren-like, and the background story about ramming one of the Legion's captain makes his lore awesome.

8

Warhand

/war-hand/

Male

Warhand is also known by his birth name as "Kaz'lar". Whether a player uses Warhand or Kaz'lar, we're sure that both names are great for a Tauren character. Its background story is only a bonus about being a Druid.

9

Irgal

/ir-gal/

Female

For the name itself, we find it simple and very Tauren. What scores her on the list is her story about joining the Church of Light to become a Tauren Paladin. This background story, despite not happening in-game, sounds fascinating— and we like it that way.

10

Ralgar

/ral-gar/

Male

We depict Ralgar as a Tauren Hunter. We see him as someone who did not lay off his primitive culture and has lived a nomadic life—just like how the ancient Taurens are. But he is still a prominent member of the Horde and his skills, despite old, are still useful especially for wilderness survival.
If you're looking for other race-specific names aside from the Taurens of Kalimdor, you may check our WOW Name Generator. You can select a specific race in this smart generator and produce unique names that you can use for your WOW character. Try it now for free!